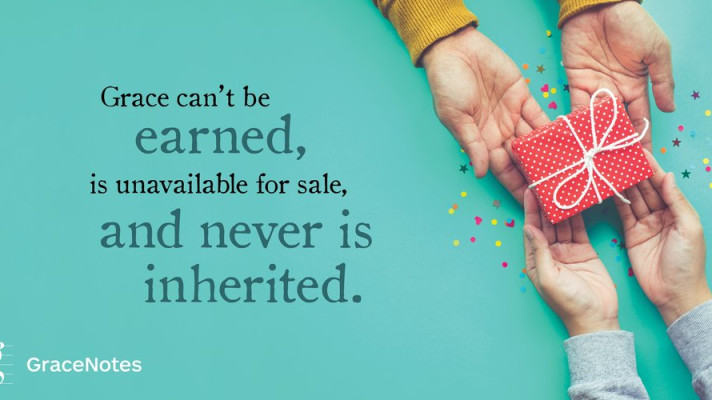 Free and Equal
As children, we would loudly boast: "I can run faster than you." "I have more toys than you." "I'm taller than you." Not much has changed. Now all grown-up, we quietly still boast: "I pay someone to do my running for me." "I have the bigger toys." "I'm thinner/fitter/wealthier." We gain our value by comparing ourselves to those without acquired or natural advantages. We revel in what DNA or ancestors have lent us for a moment.  But Jesus offers each of us a gift for which no bragging is allowed: "By grace you have been saved through faith, and this is not your own doing; it is the gift of God—not the result of works, so that no one may boast" (Eph 2:8-9). No leap of faith is measured. No marathon of duty gets us closer to the goal. No list of good things done—or bad things left undone—adjusts our destiny. Grace can't be earned, is unavailable for sale, and never is inherited. Grace is God's gift, and free to all who take it. In God's economy, I gain it all by faith in Him "who loved me and gave Himself to save me" (Gal 2:20).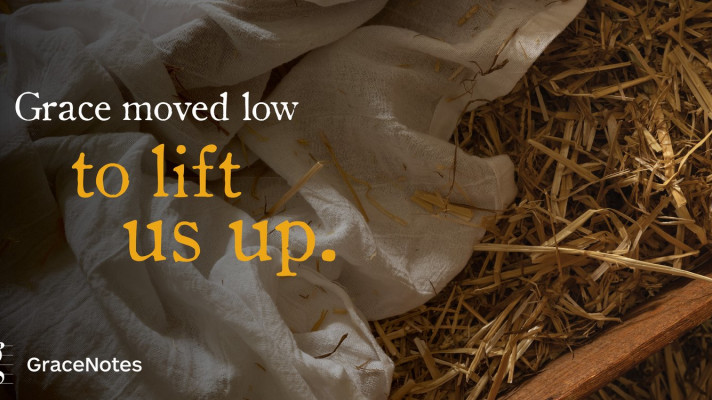 Grace That Lifts
"Away in a manger No crib for His bed . . ." It staggers imagination that the Lord of life, the Creator of all that is, found His first bed neither in a warmed obstetrics ward nor in a baby's well-built crib. His reality was far more primitive than all the gilded mangers which adorn displays in churches or millions of homes this Christmas. The manger in which Jesus slept His first hour was almost certainly a shallow bowl carved into the rock floor of a cave or lean-to shelter—quite literally, a hole in the ground from which the livestock ate. It was the lowest of low places, the symbol of how low grace will stoop to live with us and be one of us. And you will recall that at the other end of His life, Jesus was—temporarily—laid in another hole in the ground—a tomb carved from the rock face of a cliff. There is a special symmetry in this, for grace seeks out "the lowly and despised things of this world" (1 Cor 1:28) to illustrate that no one is beneath the saving love of God. The worst, the lowest thing you've done is still redeemable because of grace. The best and highest thing you'll do is only possible through grace. Grace moved low to lift us up. So stay in it.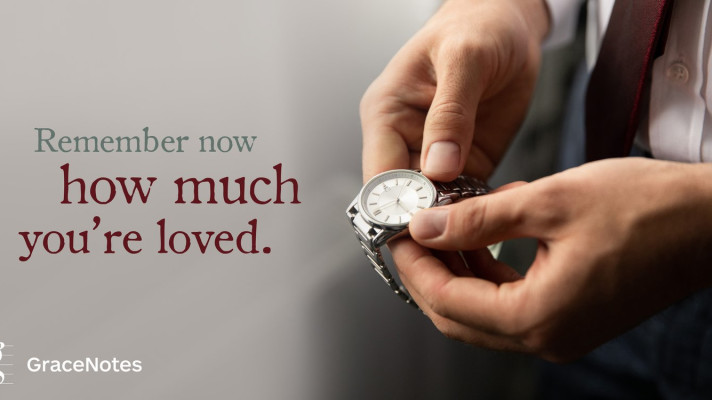 Redeeming the Time
In all those moments in between—when idling in slow traffic; or stuck in dull, unhappy meetings; or waiting for the sound of tires rolling up the drive—our thoughts revert to what we've missed. Where would we rather be? With whom would we prefer to talk? Why must our time be wasted? But the God of every moment—even dull, unhappy ones—offers us His presence and His care. "I have loved you, My people, with an everlasting love," He says (Jer 31:3). "Be sure of this: I am with you always, even to the end of the age" (Matt 28:20). "Come to me, all of you who are weary and carry heavy burdens, and I will give you rest" (Matt 11:28). The grace of God is still our gift when schedules lag and people disappoint and time hangs heavy on our hands. There is no hour Christ will not share; no hidden grief He cannot bear; no pause in all His patient care. Remember now how much you're loved. And when you wait, then stay in grace.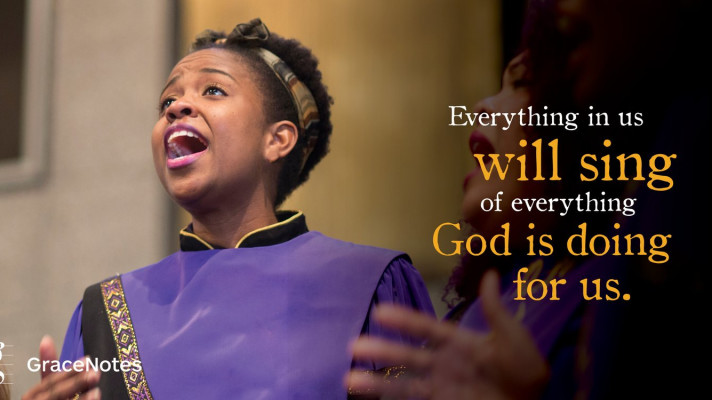 Gratitude and Grace
Thankfulness is all about our expectations. So long as we think we deserve to be healthy—physically, financially—and that a sick body or an empty wallet is an injustice done to us, we'll never feel all that grateful when God heals us. If God owes it to us to make and keep us healthy and wealthy, why should we thank Him for it? But if we grasp the deep sacredness of living—that every moment is a gift from the Father's hand—then everything in us will sing of everything God is doing for us. Every illness overcome; every bank account that didn't run dry; every wounded relationship healed is a special act of grace. We deserved none of these good things: we've been given all these good things. "O Lord, open my lips, and my mouth will declare Your praise" (Ps 51:5).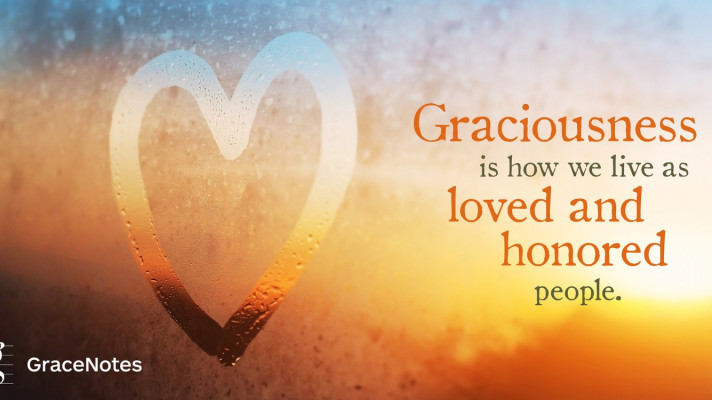 Three Crucial Words
Describe the life you've always wanted in three simple nouns—no more. Love, Power, and Excitement. Wealth, Opportunity, and Fame. Friends, Risk, and Excellence. Now try three more—all rooted in a common gift: Grace, Gratitude, and Graciousness. Grace is how we came to be—and saves us from what we have become. "God decided in advance to adopt us into His own family by bringing us to Himself through Jesus Christ. This is what He wanted to do, and it gave Him great pleasure. So we praise God for the glorious grace He has poured out on us who belong to His dear Son. He is so rich in kindness and grace that He purchased our freedom with the blood of His Son and forgave our sins" (Eph 1:5-8). And gratitude is an intelligent, mature response to all that God has gifted us in Jesus. "Let the word of Christ dwell in you richly; teach and admonish one another in all wisdom; and with gratitude in your hearts sing psalms, hymns, and spiritual songs to God" (Col 3:16). Graciousness is how we live as loved and honored people—with empathy and gentleness, forgiving as we've been forgiven. "Let your conversation be gracious and attractive so that you will have the right response for everyone" (Col 4:6). Choose wisely when you pick your nouns. Your destiny depends on them.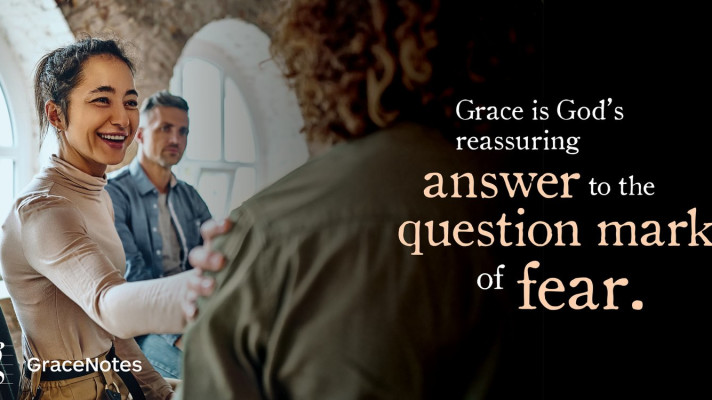 Grace Beyond Fear
Fear grips our hearts whenever we assume that all our happiness depends on us. We know our brokenness too well: the foolish choices; missed opportunities; the coldness and the distance caused by hot, close things we've said. Unless we're truly loved in spite of all we've done, fear is the natural response to what seems painful randomness. But grace proclaims a holiday from fear—not for an hour or a day, but for as long as we allow ourselves to be surrounded—yes, and held—by never-ending love. Grace is God's reassuring answer to the question mark of fear. "I have loved you with an everlasting love," He says. "I have drawn you with unfailing kindness" (Jer 31:2-3).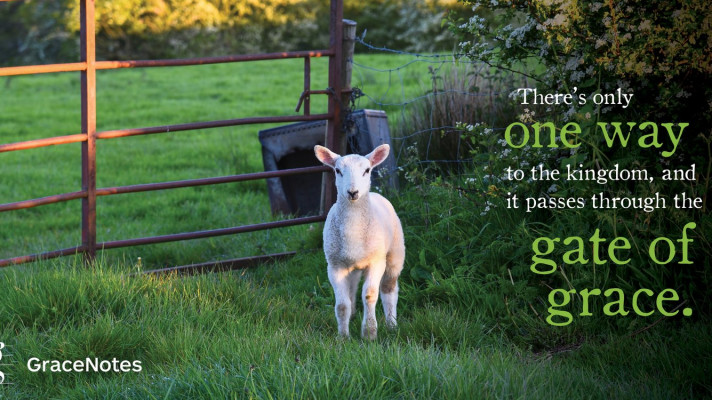 The Gate of Grace
Those who most object to grace are those who think they need it least—who blithely trust that Jesus has a "higher" way of saving them. No deep repentance, wet with tears, will stain their history: they imagine righteousness will be an earned diploma on some future graduation day. But there's only one way to the kingdom, and it passes through the gate of grace. No prior goodness lets us enter by some grander, private entrance; no record of abstaining lets us walk apart from those who've wallowed in the mud. The gate is narrow to exclude all largely self-congratulating selves: we're either saved by Jesus' blood, or we're not saved at all. So join the line where all must meet: walk hand in hand with all in need.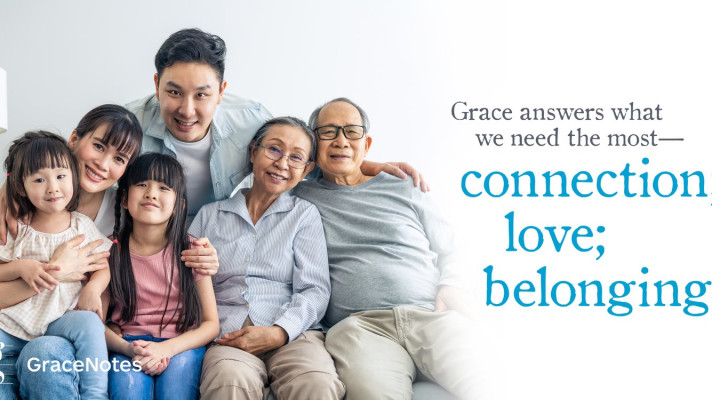 In the Grip of Grace
Ask the average person what they need most, and you'll get a list you'd write yourself: a long vacation; a good night's sleep; more money on the job; a guide for raising teens. But rumbling deep beneath the early answers, there is one that resonates for all of us: "Peace with God." Even when we're fed and rested; even when the raise comes through; even when the teens are sweet, we feel the ache of being distant from the Father. The residue of poor decisions, selfishness, and bitter words gnaws at our consciences. And there's no beach or paycheck that can take that restlessness away. Jesus offers us the quiet hearts we'll never find by searching: "I will give you a new heart, and I will put a new spirit in you. I will take out your stony, stubborn heart and give you a tender, responsive heart" (Eze 36:26). The promise of new life is always there—beneath our brokenness; above our fear; beyond our finest efforts. "Don't let your hearts be troubled," Jesus says. "Trust in God, and trust also in me. There is more than enough room in my Father's home." (John 14:1-2). Grace answers what we need the most—connection; love; belonging. There's nothing better in this world. Or in the next one.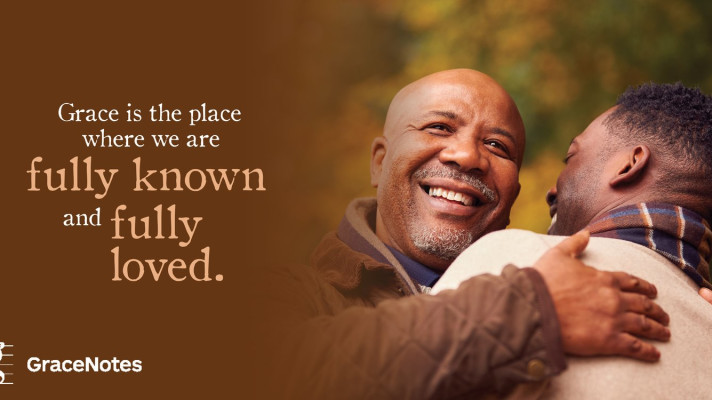 Full of Grace and Truth
On every day, in every way, God knows what we've been doing. The Father sees each burst of pride, each run of lust, each carelessness that injures others. "Nothing in all creation is hidden from God's sight" (Heb 4:13). But seeing all does not mean loving less, for love begins with honesty. We want to hide from all we've done, and fall for the lie that God no longer loves us. But grace reminds us of the Father's remedy for shame: "If we confess our sins to Him, He is faithful and just to forgive us our sins and to cleanse us from all wickedness" (1 John 1:9). "God was in Christ, reconciling the world to Himself, no longer counting people's sins against them. And He gave us this wonderful message of reconciliation" (2 Cor 5:17). Grace is the place where we are fully known and fully loved. We need not hide, except in Him: "Your real life is hidden with Christ in God" (Col 3:3). "Where sin abounded, grace did much more abound" (Rom 5:20). Be seen. Be known. Be held. Be loved.
Grace Without Desperation
When we've tried every other way, we give ourselves—with sighs—to grace. We miss its beauty and its joy because we save it as our last resort, a life ring for the drowning. We strive as though the goal was to use as little of God's grace as possible, like salt on vegetables, or gas when heating homes. But Jesus wants our joy "full-filled": abundance is the sign of grace. The life that could be yours can now be yours—without delay, without the misery and thrashing. God saves the desperate, but not because He needs us to be drowning. Enjoy His joy—beginning now—and lasting till forever.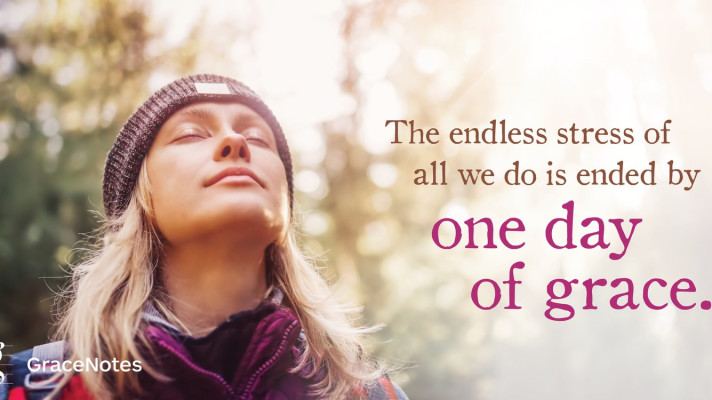 A Day To Remember
Exert. Perform. Achieve. Repeat. Exert. Perform. Achieve. Repeat. The drumbeat of our days resounds until our souls are never still. We vibrate with intensity at moments when we most crave rest. We work in dreams: we nap at work. But He who gave to humans work sighs in the heavens for how we have abused ourselves: "Six days you shall labor and do all your work, but the seventh day is a sabbath to the Lord your God. On it you shall not do any work" (Exo 20:9). In every week, the Lord who calls the Sabbath His invites us to return to peace: "Come to Me, all of you who are weary and carry heavy burdens, and I will give you rest" (Matt 11:28). Our hearts cry out for healing and for wholeness. And Jesus, who created us for joy, reminds us of our destiny: "I came that they may have life, and have it more abundantly" (John 10:10). The endless stress of all we do is ended by one day of grace. There is a Sabbath in your future. Find the joy.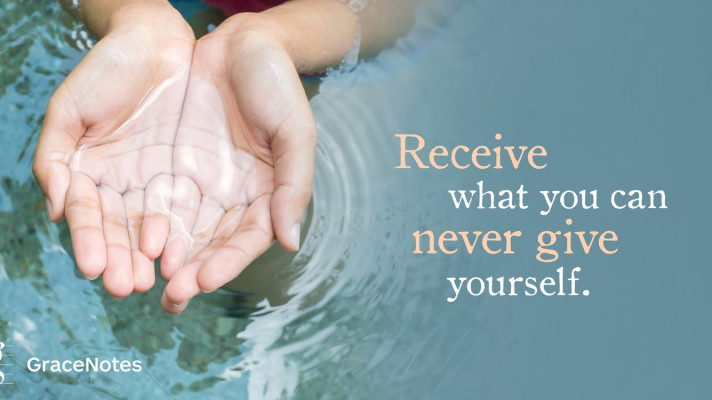 The Life That Could Be Yours
Unlike a hundred self-help apps, or misty-morning videos that urge us to find answers from within, grace offers us the real-world truth about ourselves while maximizing our potential joy. Grace announces the bad news about us and everyone we know up front: "For everyone has sinned; we all fall short of God's glorious standard" (Rom 3:23). But brokenness and loss is not the last word about us: "God demonstrates His own love for us in this: While we were still sinners, Christ died for us" (Rom 5:8). A power from outside of us is the only one that can quiet our distracted minds, restore our faith in the future, and set us on the road to rich, fulfilling lives—for now and forever: "For God so loved the world that He gave His one and only Son, that whoever believes in Him shall not perish but have eternal life" (John 3:16). And here's God's vision of what our relationships can grow to be: "The Holy Spirit produces this kind of fruit in our lives: love, joy, peace, patience, kindness, goodness, faithfulness, gentleness, and self-control" (Gal 5:22-23). No self-help source can promise—and deliver—all that. Grace tells us the truth, heals our brokenness, and secures our joy—forever.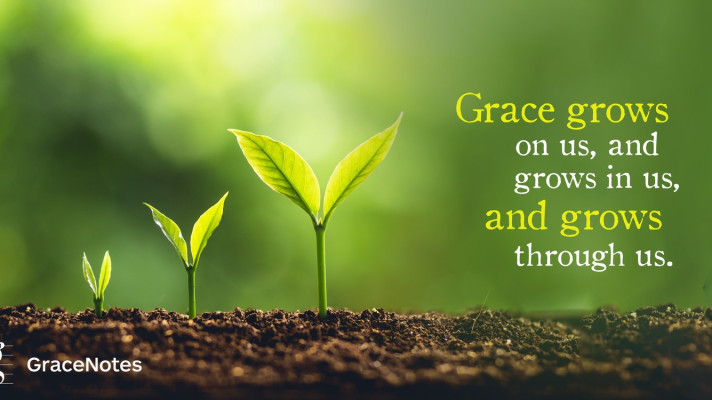 Growing in Graciousness
If grace were just for me, and not God's gift to all in need, I might rejoice in my solo salvation and never be a different soul. But "the grace of God has appeared, bringing salvation for all" (Titus 2:11)—for every individual, yes—but also for the whole of us as Jesus' faithful way to live with and forgive each other. Grace truly known always grows into graciousness: the living shows we're starting to perceive how great the gift is. When I extend the grace of God, I take it deeper in my life. When I forgive, I learn how much there is in me that needs the Lord's forgiveness. Grace grows on us, and grows in us, and grows through us.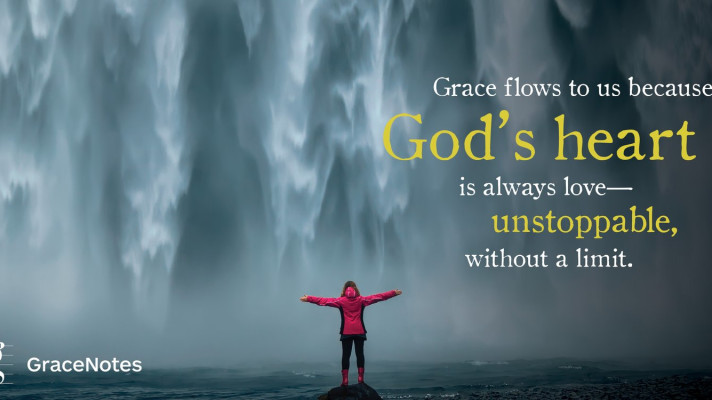 When Opposites Attract
We make our lists of opposites: love and hate; trust and fear; carnivores and vegans. And sometimes we assume that the truth God knows about us is at odds with how He saves us, as if the Father must close one eye—or both—in order to embrace us. How can He keep the ones who break His law? So here it is—the good news in one line: "For God made Christ, who never sinned, to be the offering for our sin, so that we could be made right with God through Christ" (2 Cor 5:21). The Father sees our hate and fear, and weeps when we devour each other. He knows the awful truth. But when we trust in Jesus, He looks only at the love and goodness of the One who never sinned. "So now there is no condemnation for those who belong to Christ Jesus" (Rom 8:1). In grace, God is both just and merciful. Jesus took our penalty: we get His reward. "We have seen His glory, the glory as of a Father's only son, full of grace and truth" (John 1:14).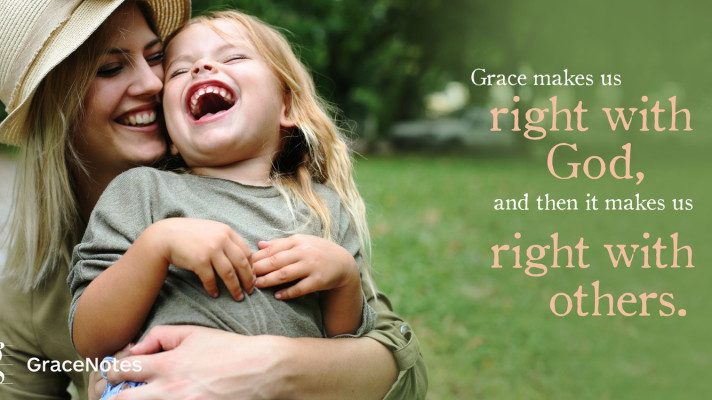 The Changes You Can't See
A friend you haven't seen in weeks stops you on the street. "You've lost weight," she says. "You're looking good." A workmate smiles when you return from two weeks on the beach. "You're looking rested," he observes. "The sun and waves do wonders for you." And even when the warmth of compliments has faded, we realize that much of what is changing in us is imperceptible to us. We often measure our success by big, important milestones—projects accomplished; degrees earned; structures built; 10K races run. But what is truly changing for the better in us often shifts in micro-movements we don't notice every day. Grace is at work in us even when we're unaware. "And the Lord—who is the Spirit—makes us more and more like Him as we are changed into His glorious image" (2 Cor 3:18). As we discover how much we've been forgiven, we find that we, too, can forgive. Because we speak with open-heartedness to God, we learn to speak to others with more kindness, deeper warmth—making room for those still learning grace. Grace makes us right with God, and then it makes us right with others. Welcome the changes only grace can make in you.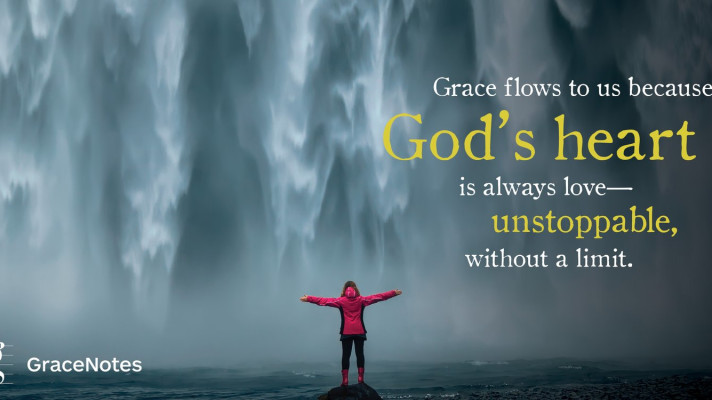 Unlimited
There is no grudging in God's grace—no "Alright, this one time" or "Even though you don't deserve it." He never makes forgiveness hang on promises to not sin again. "He knows our frame," the Scriptures say: "He remembers we are dust." And all our promises—like those who made them—are dusty, broken, unreliable. God forgives as only a Father can—more eager to restore the relationship than recall the rebellion; more focused on what we may become than what we did to wound Him. Grace flows to us because God's heart is always love—unstoppable, without a limit. If you could quantify such love, then you, dear friend, would be much greater than He is—and that is rank absurdity.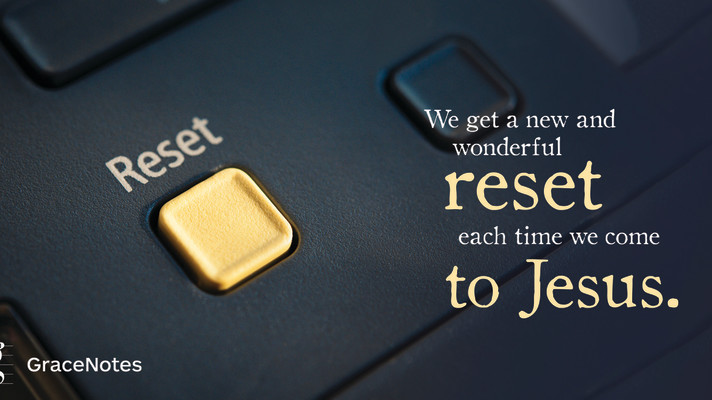 Journey to Joy
On our best days, we fall far short of our inspiring goals. We say the angry words, repeat the wicked gossip, upset the ones we're pledged to love. And were it not for grace, our story is an endlessly repeating tale of good intentions and bad performances. But grace upends what keeps us mired in our sins, for grace proclaims release from guilt, redemption from our foolishness. We get a new and wonderful reset each time we come to Jesus. The slate is cleaned; the record washed; the sins removed as far as east can ever be from west. This is the genius of the gospel: We need not stay what we once were. We need not be what we are now. Grace pulls us toward the joy for which we were created, and puts the hope back in our story. So move toward joy. And stay in grace.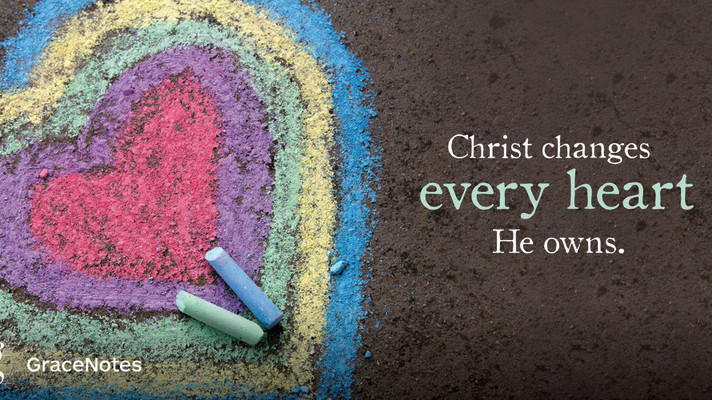 The Hiddeness of Grace
When grace has lived a while in us, we wake one day to learn how much we've changed, how everything is different. We speak new kindness to the ones who mock us, or who irritate our peace. We listen well to those who never seemed worth hearing. We find our hearts have been enlarged, with room for those we feared or scorned. This is the sign of Jesus living in us, and yes, we never saw it coming. Christ changes every heart He owns, replacing stoniness with love. We get the double blessing of eternity and now—of seeing life renewed in us and all with whom we're planted. His seed that grows in secret still does yield the sweetest fruit.
Sleep Like a Child
There's no indictment in the legal system that cuts as deeply as the accusations of a conscience. Others will misread our motives; some will actively distort our record. Civil justice sometimes proves that it is blind when it won't see the truth. But the voice within that calls us to account can't be ignored, and doesn't wait on jury verdicts. The moral sense God plants within each life "re-minds" us what the courts may never know: "All have sinned and fall short of the glory of God" (Rom 3:23). "He has shown you, O mortal, what is good. And what does the Lord require of you? To act justly and to love mercy and to walk humbly with your God" (Micah 6:8). No one—not you; not even the nicest person you know—has ever met this standard. But there is One who makes us now and eternally right with God: "If anyone does sin, we have an advocate with the Father, Jesus Christ the righteous" (I John 2:1). "He is able, once and forever, to save those who come to God through Him. He lives forever to intercede with God on their behalf" (Heb 7:24). Because of grace, your conscience can be clear. "In peace I will lie down and sleep, for you alone, O Lord, will keep me safe" (Psa 4:8).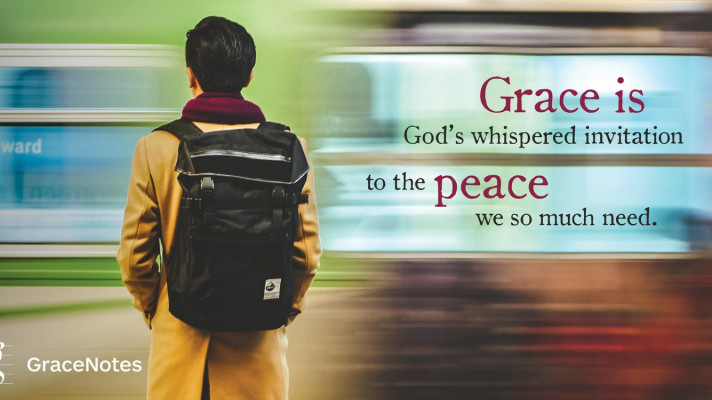 Speak Quietly to Me
The bullhorn at the city corner blasts a warning to distracted thousands. Television ads amp up the volume to plant dish soap in our minds. The neighborhood reverberates with raucous party music far into the night. Does no one understand that quiet also wins our hearts? God does. To every sound-bombarded soul, He speaks with "the sound of quiet stillness" (1 Kings 19:12). When all the world is noisily demanding action—"Buy this!" "Choose that!" "Vote for X!"—His words are gracefully inviting: "Come now, and let us reason together," says the Lord, "Though your sins are like scarlet, they shall be as white as snow; though they are red like crimson, they shall be as wool" (Isa 1:18). "Come to Me, all of you who are weary and carry heavy burdens, and I will give you rest" (Matt 11:28). Grace is God's whispered invitation to the peace we so much need. Prepare to be quiet—and happier than you have ever been.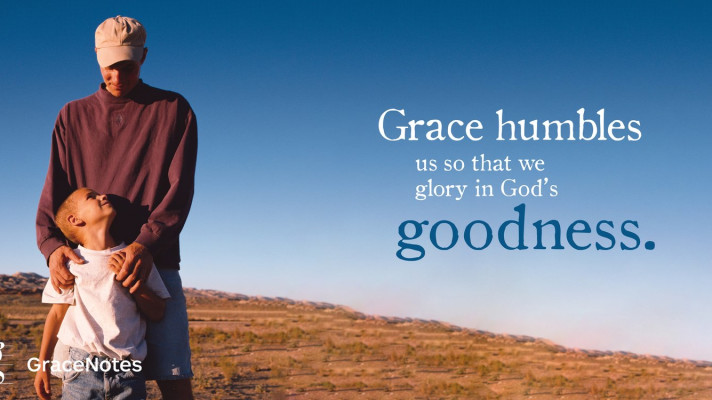 After the Fall
We wince when we see arrogance up close: an air of unreality surrounds the child or adult who thinks the world revolves 'round him. And secretly, we wish for some unscheduled "life event" to teach the lesson in humility they clearly missed. We mutter favorite proverbs: Pride always goes before a fall. That's why the gospel teaches us to see ourselves with candor. Lest we think we are so different from our peers, God's Word declares, "All have sinned and fall short of the glory of God" (Rom 3:23). Isaiah long ago affirmed, "All we like sheep have gone astray; we have turned every one to his own way. And the Lord has laid on Him the iniquity of us all" (Isa 53:6). Even when we cherish our illusions, "There is none righteous: no not one" (Rom 3:10). Talent, skills, obedience—none can make us right with God. Only grace revealed in Jesus can tell the truth about our muddled, bungled lives—and also bring our healing. "God has given no other name under heaven by which we must be saved" (Acts 4:12). Grace humbles us so that we glory in God's goodness.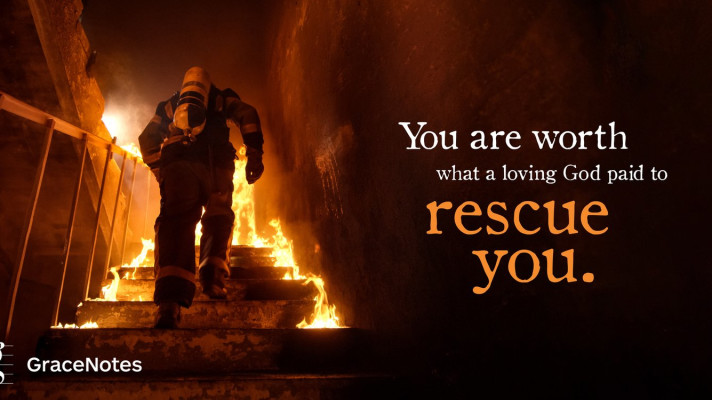 Net Worth
How much are you worth? The question seems urgent. Brochures in each week's mail promote new models to calculate personal wealth. Add your savings, retirement account, the value of your home, and any salable assets—and you have a number that approximates your market worth. But the gospel fixes your worth to a different metric—the value an infinite God places on you. Whatever the asset sheet suggests, "Do not fear," the Father says, "for I have redeemed you; I have called you by name; you are Mine" (Isa 43:1). "Do not forget all His benefits—who forgives all your iniquity, who heals all your diseases, who redeems your life from the Pit, who crowns you with steadfast love and mercy" (Ps 103:2-4). You are worth what a loving God paid to rescue you. Which is to say—everything. "For God so loved the world that He gave His only Son, so that everyone who believes in Him may not perish but may have eternal life" (John 3:16).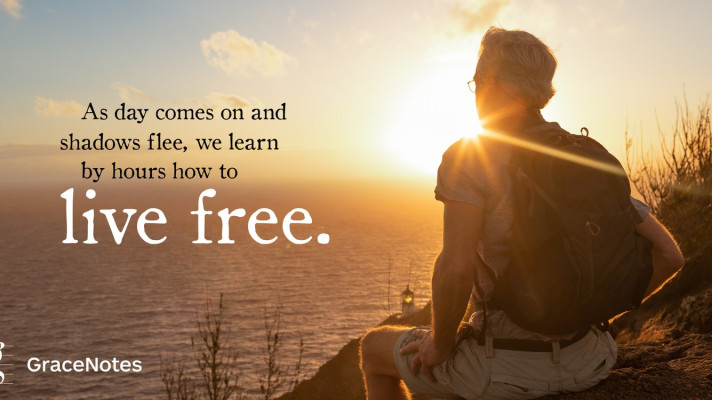 Grace Awakenings
For every "rock the road" conversion on the highway to Damascus, there are a dozen quiet stories where grace gently, slowly lights our lives—like sunrise. Don't pine for big-time drama, voices thundering at noon, or temporary blindness. Your grace may simply be ascendant hope because you learn that you are loved: what joy to know that darkness grips your life no more! As day comes on and shadows flee, we learn by hours how to live free. Christ gives His light uniquely for our moments in the Son: there's not a standard formula for how He wins our darkened hearts. We travel different roads and learn from many teachers the amazing ways He saves us.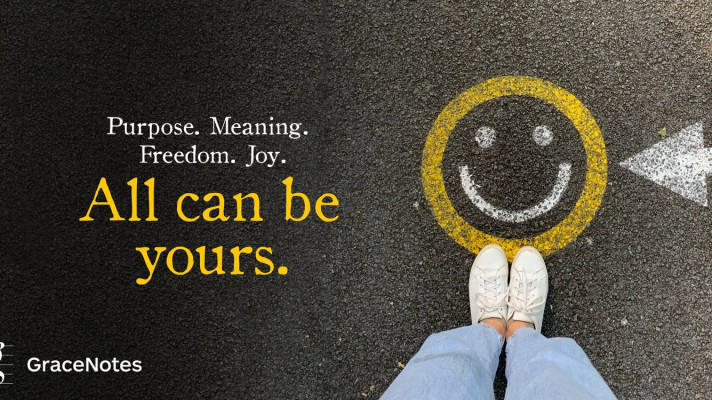 The Life You've Always Wanted
Go ahead. Pick any kind of life you want. Survey all faiths, all creeds: examine each philosophy. Take as long as you need to choose the life that's best for you. But pick something that brings you peace when all the world's on fire. Choose a life that's free of guilt and shame. Select a creed that heals what's broken in you. Find something that teaches forgiveness and restoration, so you can live in harmony with others. Focus on the kind of life that builds strong marriages and happy children. Identify a faith that gives you hope beyond this earthly life—that promises you an everlasting joy. And you will choose the gospel—the amazing good news that in Jesus, your life is freed, forgiven, full—forever. Believers for 2000 years are witnesses to the best life human beings can know. Jesus said, "I came that they may have life and have it abundantly" (John 10:10). Purpose. Meaning. Freedom. Joy. All can be yours when you choose life—and stay in grace.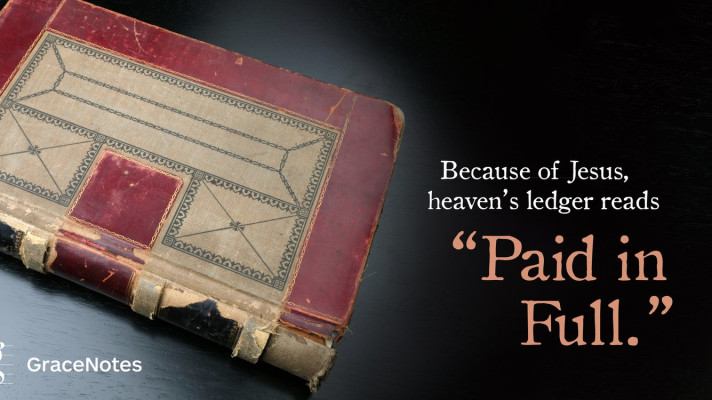 The Ledger of Your Life
On our worst days, we desperately imagine God is but a stern accountant, tallying our sins with unerring accuracy. Because we can't forget our sins, we assume that an all-knowing God can't forget them either. "Lord, if you kept a record of our sins, who, O Lord, could ever survive?" ( Psa 130:3). "But the love of God is broader than the measure of man's mind. And the heart of the Eternal is most wonderfully kind." Hear what a loving Father actually says to those who put their trust in Jesus: "For I will be merciful toward their iniquities, and I will remember their sins no more" (Heb 8:12). The joyous promise of the gospel is the Father's pledge to both forgive and forget our sins when we trust Jesus as our Saviour. Because of Jesus, heaven's ledger reads "Paid in Full." "This is real love—not that we loved God, but that He loved us and sent His Son as a sacrifice to take away our sins" (1 John 4:10). God's love for us is always greater, wider, fuller, deeper than we know.
A Hymn to Grace
It's tough to sing of liberating grace when all we know are dirges about effort. We chorus qualities designed to keep us climbing (ever upward!)—songs of courage, risk, and faith—but then discover that we're badly, sadly lacking in all three. Our promises are "ropes of sand." Our self-talk leads to critical self-doubt. Unyielding guilt dries up our tongues. But there's an anthem tuned to hope, and yes, it's all about the Lord: "We have heard a joyful sound—Jesus saves, Jesus saves." The finest songs begin with Him, and end with Him, and He's in every note between. We sing of His success, not ours; of His compassion, not our plans. "Shout salvation full and free Highest hills and deepest caves, This our song of victory, Jesus saves, Jesus saves."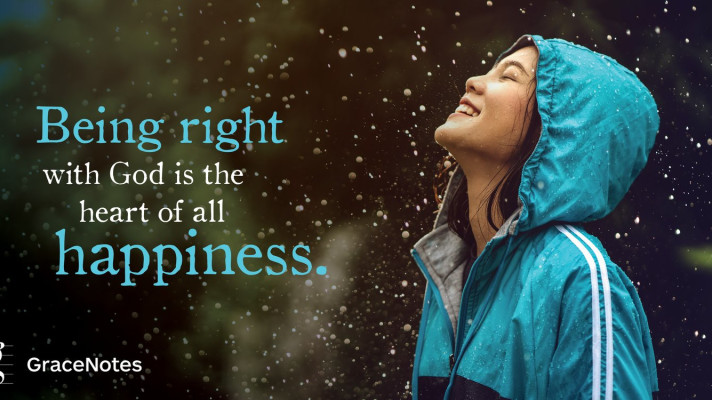 In Quietness and Grace
When was the last time you were content? We fight the question, as though it shouldn't be asked. Who could be content as prices soar, as violence erupts in homes, in neighborhoods, in nations? When could our hearts be tranquil—in the long commute, the office politics, the deep exhaustion brought on by a dozen undone tasks? "We're muddling through," we say through pained half-smiles. But Jesus offers what we'll get no other way. To those who take His offered grace, Jesus says: "My purpose is to give them a rich and satisfying life" (John 10:10). As He pledged His return, He offered something priceless: "I am leaving you with a gift—peace of mind and heart. And the peace I give is a gift the world cannot give" (John 14:27). The apostle Paul confirmed he had received that gift: "True godliness with contentment is itself great wealth" (1 Tim 6:6). Being right with God is the heart of all happiness. That gift awaits you today: accept it now.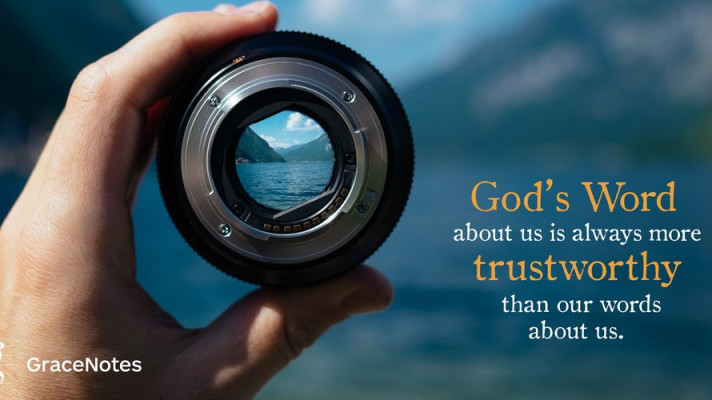 Feeling Guilty
If God has truly forgiven my sins, why do I still feel guilty?" It may be the oldest question of the life of faith—the dissonance between our feelings and the promises of God. The lies we told; the cutting words; the heartache that we caused someone in haste or greed—all these we have confessed as wrong, and asked for promised pardon. But still we feel the unrelenting weight, as though our prayers were never heard. "Let God be true though every man be false" (Rom 3:4). The promise of forgiveness is underwritten by His vow: "If we confess our sins, He who is faithful and just will forgive us our sins and cleanse us from all unrighteousness" (1 Jn 1:9). "By this we shall know that we are of the truth, and reassure our hearts before Him whenever our hearts condemn us; for God is greater than our hearts, and He knows everything" (1 Jn 3:19-20). God's Word about us is always more trustworthy than our words about us. Believe the grace that makes you right with heaven. And stay in it.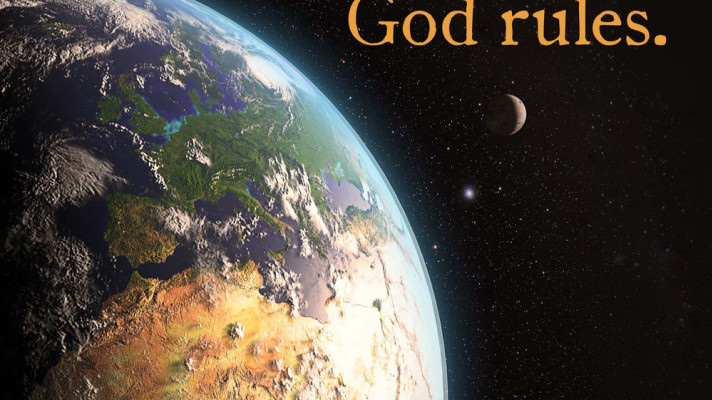 Why Grace Endures
If it were up to us, grace would have vanished long ago. Humans are hard-wired for anger, pettiness, and spite. Just look around: we keep a "righteous" score. We don't forgive. We even plot revenge on those who injure or insult us. Our code is built on protecting ourselves from a world of people just like us. We do by nature anything that pushes us ahead, above, and to the top. "My thoughts are nothing like your thoughts,' says the Lord. 'And My ways are far beyond anything you could imagine'" (Isaiah 55:8). "God sent His Son into the world not to judge the world, but to save the world through Him" (John 3:17). "This is the message we heard from Jesus and now declare to you: God is light, and there is no darkness in Him at all" (1 John 1:5). Grace flourishes because God rules above our broken world. Everything that's good and kind and healing comes from otherworldly love that will not let us go.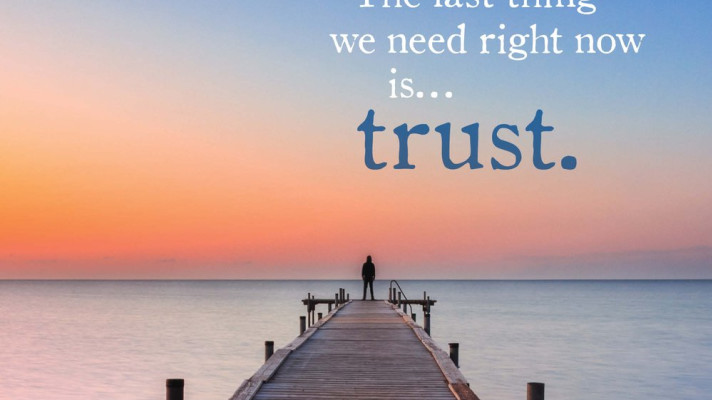 Better Than We Know
"Does God still love me?" When we're alone and lonely, or in a crowd and overwhelmed; when the catalogue of condemnation keeps past mistakes before our eyes—no question ever seemed more urgent. Can God—will God—forgive our foolishness and pride? Is God, in fact, much kinder than we imagine Him? An old hymn sings the truth: "For the love of God is broader than the measures of the mind, and the heart of the Eternal is most wonderfully kind." The apostle Paul confirms the point: "He who did not spare His own Son, but gave Him up for us all—how will He not also, along with Him, graciously give us all things?" (Rom 8:32). "God was in Christ reconciling the world to Himself, not imputing their trespasses to them, and has committed to us the word of reconciliation" (2 Cor 5:19). The last thing we need right now is . . . trust—trust that God is as gracious as He says He is. / "There's a wideness in God's mercy, like the wideness of the sea. . . "
Grace and Change
We get our guidance from the news—from trending headlines; self-help tips; from what we guess our peers are doing. "Be sharp," we learn. "Dress well: stay fit." "Be confident about yourself." "Keep aiming for a higher star." And almost no one says, "Be kind. Be gentle. Walk softly with each other. Lift up the weak. Embrace the ones who never can reward you." Except Jesus. For in His grace, He plants in us a whole new way of living. Our deep absorption with ourselves becomes, with time, new seeing and new caring. "Bear with each other and forgive one another if any of you has a grievance against someone. Forgive as the Lord forgave you" (Col 3:13). "He died for everyone so that those who receive His new life will no longer live for themselves" (2 Cor 5:15). Grace builds a whole new life for us—a focused life that matters for the here and the hereafter. Christ's gift continues giving in our lives.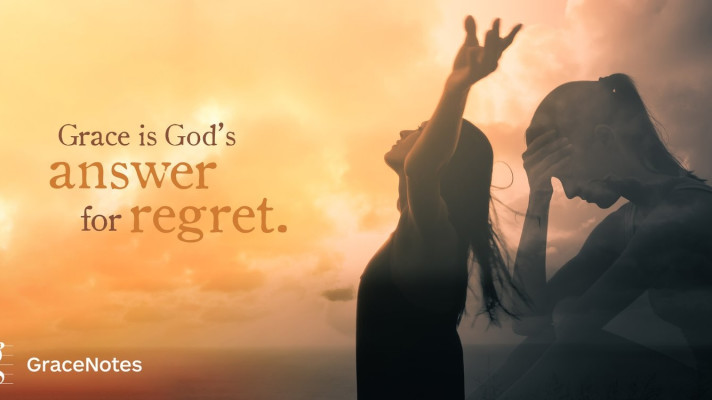 Audacious Grace
We cringe for things that happened long ago—for memories so sharp and clear we blush whenever we recall them. Perhaps it was a foolish comment in a crowd, an insult that we slung and never dared retrieve. Perhaps the mind clings to an old relationship, where friendship, faithfulness, or trust corroded into bitter rust. It is our shame, and just behind our bright bravado is the guilt that always trails after. A hundred times we beat ourselves, but neither tears nor lectures to the mirror can lighten what we carry. Hear what the gospel offers: "God, in His grace, freely makes us right in His sight. He did this through Christ Jesus when He freed us from the penalty for our sins. For God presented Jesus as the sacrifice for sin" (Rom 3:24-25). He who had no cause for shame, who never knew regret for something He had done, took on Himself the guilt of generations. "For the joy set before Him He endured the cross, scorning its shame, and sat down at the right hand of the throne of God" (Heb 12:2). Only grand, audacious grace could lift the burden from our backs and free us from the tyranny of shame. Grace is God's answer for regret. The shame can end: the blame can cease.
The Joy to Journey On
"Help us to have a good time going to heaven." The child's nervous prayer in church left all the worshippers amused. The urgent business of "going to heaven" is almost never paired with having "a good time." We're more accustomed to images of struggle, dark and painful pilgrimage, or battle with our vices—or ourselves. But Jesus announced a different—better—way of going to heaven. "I came that they may have life, and have it abundantly," He said (John 10:10). "If the Son makes you free, you will be free indeed" (John 8:36). The grace made possible by Jesus will energize your here and your hereafter. If joys are never sweeter, if love is never deeper, if no laughter rises from your heart as you walk toward God's new city, it's a potent sign that you aren't living in His grace. He who played with children and healed the broken and threw His arms around each prodigal intends your journey to His kingdom to be the best, most satisfying time of your whole life. Grace makes the journey anything but grim. Re-learn Christ's joy as you go walking with Him.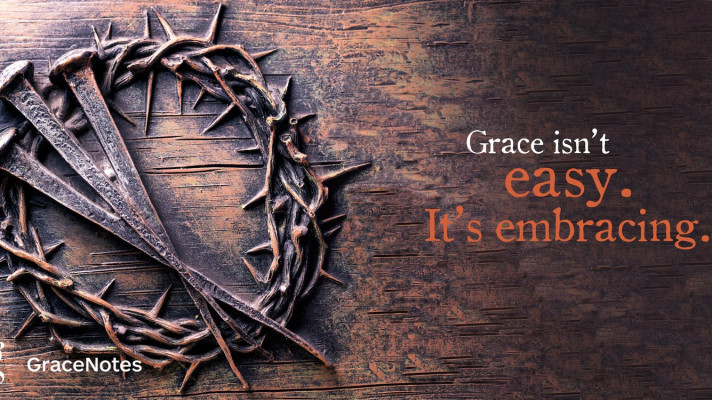 Good and Gracious
We call a cottage "gracious" if it boasts verandahs, sweeping lawns, and well-trimmed shrubbery. And what we mean is "easy on the eyes." We call a hostess "gracious" if her dinner party brims with well-dressed, laughing guests—if music is well-chosen; hors d'oeuvres are tasty, and waitstaff all attentive. And what we mean is "effortlessly elegant." But what when "gracious" equals "hard," or "agonizing,"—even "deadly"? The Lord who lived His graciousness suffered pain and mocking, nails and death—to win for us a freedom neither elegant nor easy. "For while we were still weak, at the right time Christ died for the ungodly" (Rom 5:6). Jesus drank the bitter cup till it was dry; endured the shame, the thirst, the cross; and earned the right to thus define what humans mean by "grace." Grace isn't easy. It's embracing. Accept the grip of hard-won grace.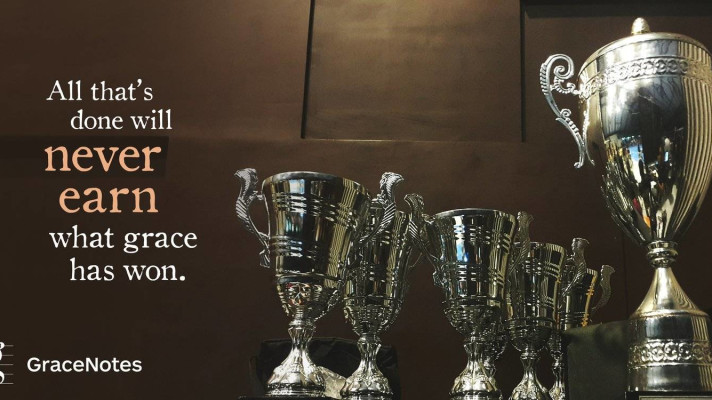 Better Than Winning
The boss rolls out incentive plans for all whose sales climb 8 percent. And so we dig into the numbers, the sales calls, the lonely hours when others sleep. The piano competition's crowning moment offers hours or days of shiny fame. And so we hide ourselves in practice rooms until Bach or Brahms is memorized, or nearly so. A vision of ourselves atop the podium, hoisting silver-plated trophies to the sky, will make us sweat and strain till muscles scream. Nothing comes without effort. And so we learn the wrong theology, believing in our core that heaven is a prize for those who pray or fast or do good works beyond the measure of their peers. "Faster, Higher, Stronger" pushes out the grace that saves through faith. "I am the way, the truth, and the life" Jesus said. "No one can come to the Father except through Me" (John 14:6). "By grace you have been saved through faith, and this is not your own doing; it is the gift of God" (Eph 2:8). All that's done will never earn what grace has won.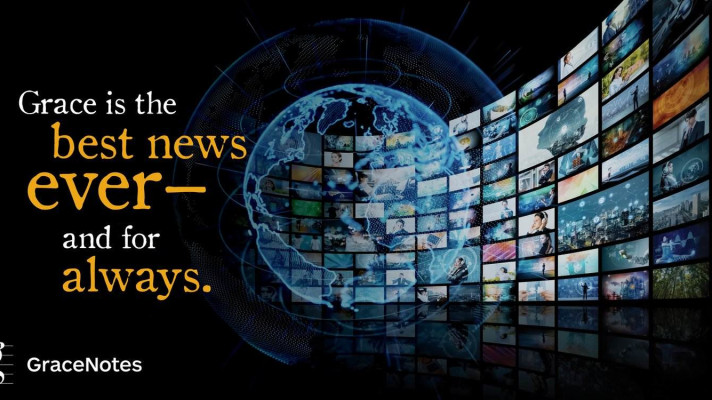 The News We Need
Rising oceans levels will inundate many coastal cities within 50 years. . . . Inflation is galloping at rates not seen since 1982. . . . Thousands of experienced teachers are leaving their profession. . . . The drumbeat of the daily news is ominous and urgent. Millions find the rhythm of distress and looming disaster both bewitching and exhausting. We dare not miss the hot headline, the "world alert" from media that have addicted us to constant threat and danger. Stay worried, anxious, always vigilant. When all the world's on fire, how dare we sleep in innocence? Yet Jesus says, "I am leaving you with a gift—peace of mind and heart. And the peace I give is a gift the world cannot give. So don't be troubled or afraid" (John 14:27). The news that we can't live without is good—indescribably good. The gospel is the promise that our broken, bungled lives can be repaired and healed by God's unfailing love. "I have swept away your sins like a cloud," God says. "I have scattered your offenses like the morning mist. Oh, return to me, for I have paid the price to set you free" (Isaiah 44:22). Grace is the best news ever—and for always.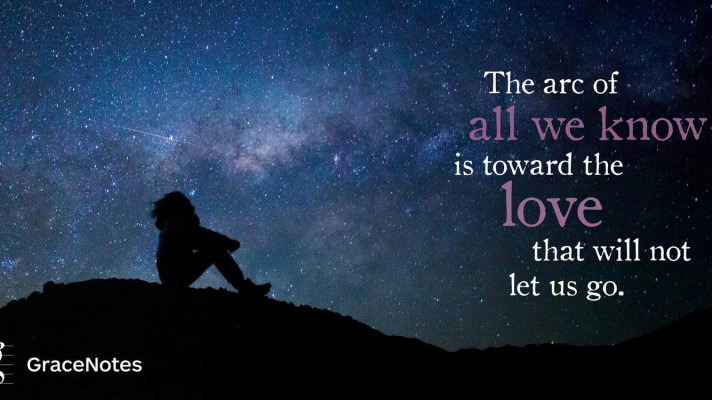 Seeing a New Constellation
So what is love, but a way of knowing that the universe is not the random, unconfigured emptiness that made us feel lonely? And what is grace, but a way of seeing all of it—the little joys, the grand exhilarations, the trusting friendships we form—as part of one great plan unfolding for our good? Grace didn't start when we discovered it—when we were suddenly aware we needed hope and freedom, when the crushing weight of our mistakes was taken off our backs. God's deep and saving care for each of us was just as true when we were blind to it, and when our arrogance declared we were the masters of our fate. In all those long and desperate nights we fought with life and tried to force the future to our will, God still was "compassionate and merciful, slow to get angry and filled with unfailing love" (Psa 103:8). The arc of all we know is toward the love that will not let us go. Behind each moment, in each day, through all the setbacks and successes, grace has been preparing us for joy, for peace, for trusting love. Why wait another hour to let your life align—again—with all that Christ is doing? "I am the one who is, who always was, and who is still to come," He says (Rev 1:8). Receive the grace that always has been there for you. And stay in it.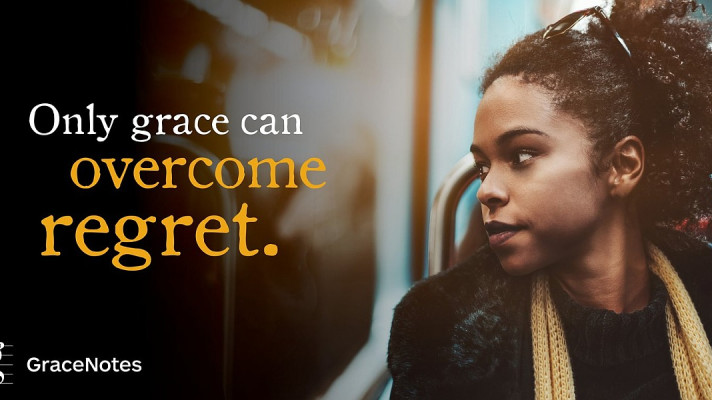 Getting Past Regret
We stare at photos of our classmates from yesteryear, remembering the giftedness, the ring of laughter, the endless optimism. We were—in no particular order—going to change the world; work for peace; be millionaires by 30; vault to the corporate ladder's top; marry wise and beautiful people; take wonderful vacations. Life seemed an endless banquet. But now we've learned how tough the world is. We've tasted bitterness and sorrow. We've watched great loves grow cold and vanish like the smoke. The competition still exhausts us—to get ahead, or just catch up. A thousand times we ask ourselves, "What might have been?" Regret is still our lowest common denominator. By someone's scale, we should have achieved more, experienced more, acquired more by now. And when we think of all we've promised God, remorse grows even deeper. Which is why we must listen to the gospel—often. No one else is saying what the Father always says: "Though your sins are like scarlet, I will make them as white as snow" (Isa 1:18). "He does not treat us as our sins deserve or repay us according to our iniquities. For as high as the heavens are above the earth, so great is His love for those who fear Him" (Psa 103:10-11). Only grace can overcome regret. With Paul, we practice that abundant life that Jesus came to give us: "I do this one thing: I forget about the things behind me and reach out for the things ahead of me" (Phil 2:13).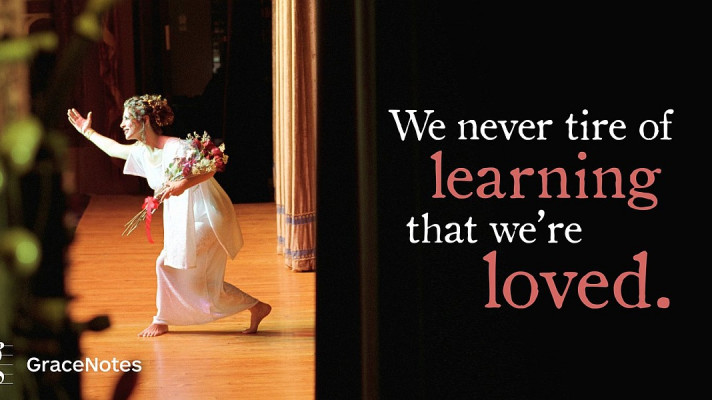 Answering the Question
The accolades descend like tickertape. The headlines trumpet "talent," "breakthrough innovation," even "genius." The penthouse suite no longer holds his new-found friends, who wait for selfie moments with the star. But in his heart of hearts he asks, "Am I really loved for me?" Her performance brings the critics to their knees. "A soaring voice," "a perfect portrayal of opera's most tragic heroine," "a triumph," "a revelation." But when the final curtain call is done and all the great reviews are folded, she wonders, "Am I really loved for me?" It's the question that never goes away—a deep uncertainty lingering beyond the money, power, skill or fame. And even well-meant promises from lovers, colleagues, friends and crowds don't fill the emptiness within. Jesus says, "I have loved you just as My Father has loved Me" (Jn 15:9). "God was in Christ, reconciling the world to Himself, no longer counting people's sins against them" (2 Cor 5:19). "God proves His love for us in that while we were still sinners Christ died for us" (Rom 5:8). We never tire of learning that we're loved—at our best, at our worst; in our doing—and undoing. We may be brilliant, broken, blessed or bruised, but "with Him there is no alteration or shadow caused by change" (James 1:17). The old song urged, "The gospel in a word is 'love.'" Hear that melody again, and let yourself believe.
Fixing What's Broken
If it were up to us, we'd save the world with money—lots of money—distributed to give each person food to eat and shelter from the storms. If it were up to us, we'd save the world through education—teaching children how to read, filling schools and universities—for knowledge has advantages. If it were up to us, we'd save the world by banning war—undoing arsenals, dissolving armies, teaching skills of compromise. All these are good: we've tried them all. Yet still we wrestle—endlessly—with poverty, injustice, and the violence they breed. The vast inequities of life defy our grandest visions. God says, "My thoughts are not your thoughts, nor are your ways My ways" (Isa 55:8). He who knows us best and loves us most will save the world His way. "For this is how God loved the world: He gave His one and only Son, so that everyone who believes in Him will not perish but have eternal life" (John 3:16). "God showed His great love for us by sending Christ to die for us while we were still sinners" (Rom 5:8). Grace is God's answer to our broken, messed-up world, for grace addresses all that causes hunger, homelessness and war. God heals the heart, and then, in turn, our minds, our bodies, and communities. Begin with grace, and watch the world change.
Unresolved
The diet lasts a dozen days. The treadmill hasn't spun 10 miles. The Bible sits where it was left, unopened and unsavored.  We grieve the effortless unraveling of all the goals we wanted to achieve—to lose the weight; increase the steps; find hope and quiet in God's Word.    We are too close to dreams undone, to lofty visions gone awry.  So how does God address our lack of grit and gratitude?   "I will be faithful to you and make you Mine, and you will finally know Me as the Lord," God says (Hosea 2:20). "He knows our frame," the psalmist says. "He remembers we are dust" (Psa 103:14).  And so Christ came, to walk our dust, to know our pain, to understand how irresolute we are.  "This High Priest of ours understands our weaknesses, for He faced all of the same testings we do, yet He did not sin" (Heb 4:15).  Grace always moves toward us, redeems our goals, and tells us we are loved.  We fall in step with One who holds us when we stumble.  He is resolved when we are not, and faithful when we wander.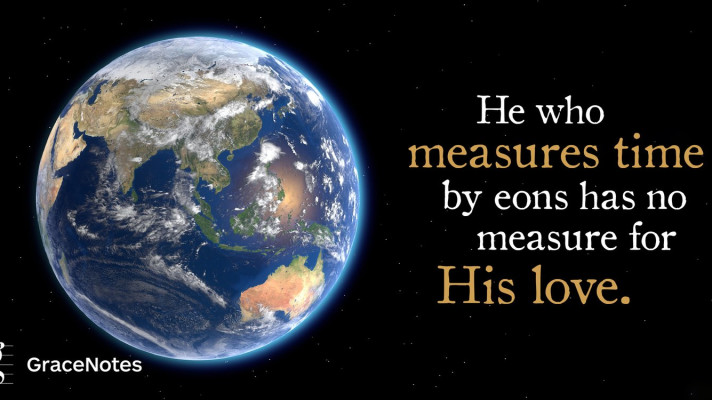 Generations of Grace
The Earth, at least, has made an orbit—elliptical and brilliant, 600 million sprawling miles—since last we looked at January 1st. But there has been no grand trajectory to how we've lived the dimming year. We've muddled through our COVID time with half a heart and frequent doubts. How much should we commit when everything seems tenuous, so capable of multiple bad endings? We dare not lean far forward: experience says we can't lean back. Time gallops when we need it slow; it crawls when we are stuck and sore. Relationships still fray with distance; some are too far away, and some too close. And so we turn to that one place that is both safe and full of grace: "Lord, You have been our dwelling place in all generations" (Psa 90:1). When the story of our past is painful; When our future is unsure; Only God, who lives forever, Offers grace that will endure. He who measures time by eons has no measure for His love. "I have loved you, My people, with an everlasting love," the Father says to all who choose His reign. "With unfailing love I have drawn you to Myself" (Jer 31:3). Walk into 2022 assured of God's deep, lasting care for you. And stay in grace.
Come All, Come Now
This child will live to make you whole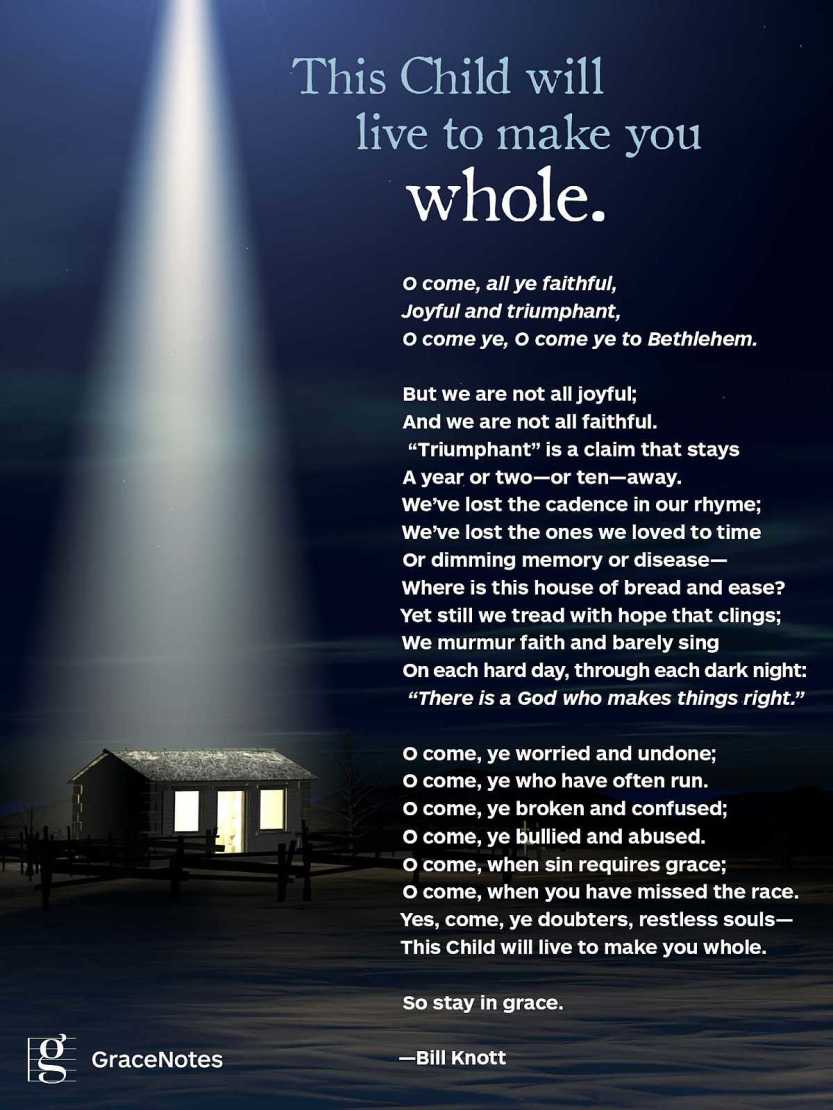 The Wisdom of Grace
A billion Christmas cards will picture them—these Magi, wise men from the East—with camels, sand, and one bright star. They traveled once to find a Child: we travel now to share our gadgets, eat too well, and put the fading year behind us. But theirs' was not a trip: it was a quest—a deep displacement of their lives because they guessed the Child they sought would heal their wounds; relight their skies; upend what they had previously called "wise." They staked their reputations, privileges and wealth on finding One whose value system overturns the world. "He is the source of your life in Christ Jesus, who became for us wisdom from God, and righteousness and sanctification and redemption" (1 Cor 1:30). "And they bowed down and worshipped Him" (Matt 2:11). Praise was the real gift they brought, for no one ever outgives grace.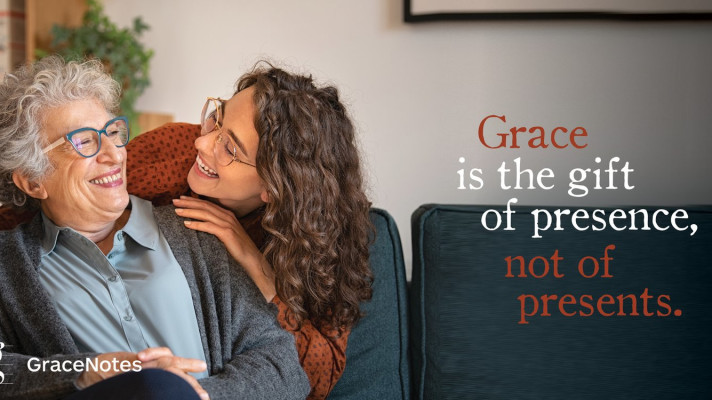 Room at the Inn
The storybooks of Christmas brim with narratives of hidden visits and secret surveys of our kindness. In our extravagance and parties, Jesus visits those who bear His name disguised as a destitute old man, a homeless young woman, or a lonely child shut out from all the feasting and the revelry. And we lower our heads, and promise to do better, and actually drop our extra change into the Salvation Army bucket when we leave the stores, laden with our gifts. But the truest narrative of Christmas is about the gift of presence—God with us, for us—Immanuel who will not let us go. It is the gracious presence of our God we celebrate at Christmas: He walked our streets; He ate our food; He knew hard work and sweat and pain; He celebrated friendship. Grace is the gift of presence, not of presents. Christ became a human to erase our loneliness, our fear, our dread. "His life brought light to everyone" (John 1:4). Welcome Him—again—into the inn of your soul.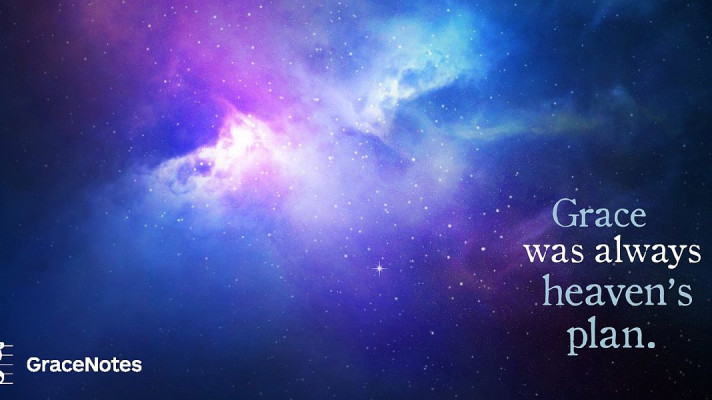 The Song That Must Be Sung
"Be safe," uncounted angels urged, and watched with apprehension as the One who made them want to sing stepped down through light years and past planets to a home in Mary's silent womb. It was the first time they had ever been without His joy. How would His strange descent to live among the broken, tragic, helpless race of humans—letting Himself be born as one of them—affect the ceaseless happiness of heaven? And so they practiced for nine months, suggesting harmonies so rich and descants they had never tried, to craft a song—the perfect song—for that first night He would appear, an infant wrapped in birthing bands. They found from months of searching just the audience they wanted—sleepy shepherds in the fields—who never had heard music of that quality or kind. And when the birth had happened, when months of pent-up chorusing became unstoppably joyous, they burst forth on the hills near Bethlehem: "Glory to God in the highest, And on earth peace, goodwill toward men!" (Luke 2:14) Grace was always heaven's plan: peace and goodwill are what our God has always offered us. Jesus, "the Lamb who was slain from the creation of the world" (Rev 13:8), was first chorused to a flock of shepherds. And the joy of those who sang—and the joy of those who heard—has set our world in motion with the rhythms of His grace.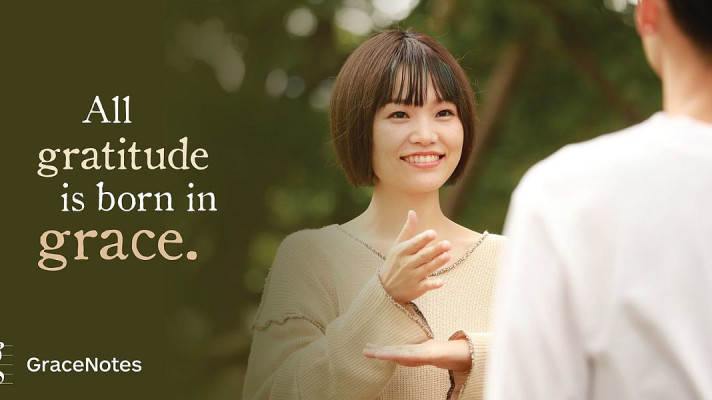 Simple Gifts
If everything is owed to us; if every stream should flow toward us; if we imagine we must regularly be served—there will be nothing to be thankful for. And we will go our careless way to dominate, control, abuse. But if our lives are really gifts; if every breath is one more grace, then we are not what we achieve, but actually, the sum of all that's given us. And we grow grateful for things great and small—for vast, majestic sunsets and for sweet warblers singing in the yard. We see the gift in toddlers' smiles, and relish simple, joyful laughter. We savor food, remembering the many hands who served and toiled to bring this gift to us. We turn to colleagues and to friends with words that warm them, fill their hearts: "Thank you for the gift you are. I am so blessed to walk with you." And if we live in faith, we turn to God and say from what is deepest in our lives—"Unseal my lips, O Lord, that my mouth may praise You" (Psa 51:15). "Let all that I am praise the Lord; may I never forget the good things He does for me" (Psa 103:2). All gratitude is born in grace, and sees the world through grace-filled eyes. "Praise God from whom all blessings flow." Embrace what has been given you. And stay in grace.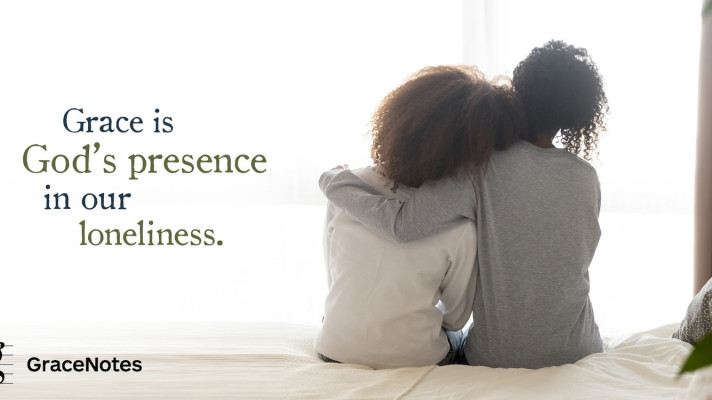 A Present Help
Where is God when it hurts? The question is painfully familiar. In every moment when we suffer, we raise our tearful eyes to heaven and ask what all this pain accomplishes. Will warring nations come to peace because the children starve? Not likely. Will all the daily indignities of living without water and without wealth adjust the fairness of the planet? Not on any planet we know. Will sleepless nights and searing pain ensure some future happiness? There are no guarantees. And does God know how much we hurt when bodies ache and hopes fall flat? "Because God's children are human beings—made of flesh and blood—the Son also became flesh and blood. For only as a human being could He die, and only by dying could He break the power of the devil, who had the power of death" (Heb 2:14). Jesus is God's answer to the riddle of our pain. The One who made the universe came down to walk our roads and eat our food and feel our loss and cry our tears. He stands beside us; with us; on our side. Grace is God's presence in our loneliness. "Whoever has the Son has life" (I John 5:12). Meaning will yet rise from all this broken ground.
Looking for Safe
Safe. Perhaps you mean a metal-banded box, a vault—a walk-in, high-tech cave where wealth is stored. Perhaps you mean a spot on earth where threats are temporarily gone, where you can stretch out on the grass, fearing neither man nor beast. Perhaps you mean a chosen friend, a spouse—a person who will hear your deepest hurts and never leave you by yourself. You surely mean the covenanted God who is far bigger than our brokenness, our sin—who gathers up and fathers out to all who choose His open arms. "He has removed our sins as far from us as the east is from the west. The Lord is like a father to His children, tender and compassionate to those who fear Him" (Psa 103: 12-13).  For all His untamed love and unchecked power, our God is deeply and forever safe. "He never changes or casts a shifting shadow" (James 1:17). Come home to safe. And stay in grace.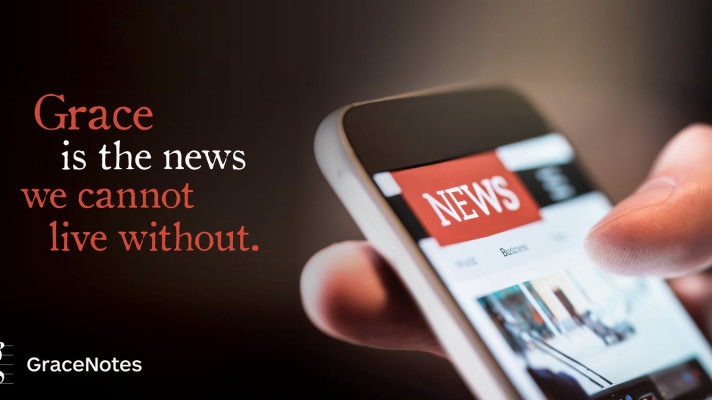 Trustworthy News
Beyond the screaming headlines; beneath the pundits' withering analysis; above the daily outrage of our inhumanity to each other, there is a ceaseless broadcast of good news that outlasts every news cycle. "For this is how God loved the world: He gave His one and only Son, so that everyone who believes in Him will not perish but have eternal life" (John 3:16). Unlike so much we count as "news," there's nothing fake about it. No inflated facts or twisted meanings here: this is the calm, eternal truth about a God who won't stop loving us, even when we're most unlovable. And on that day when this amazing news grabs your attention like headlines set in four-inch type, it will bring meaning, warmth, clear light and color like no blog or newsfeed ever has. You are loved, and not just when your hair is combed and you've been living in between the lines. You are cherished by the God who welcomes prodigals back home, who goes in search of wayward sheep, whose "steadfast love endures forever" (Psalm 118:1). Grace is the news we cannot live without. Write it somewhere on your walls today.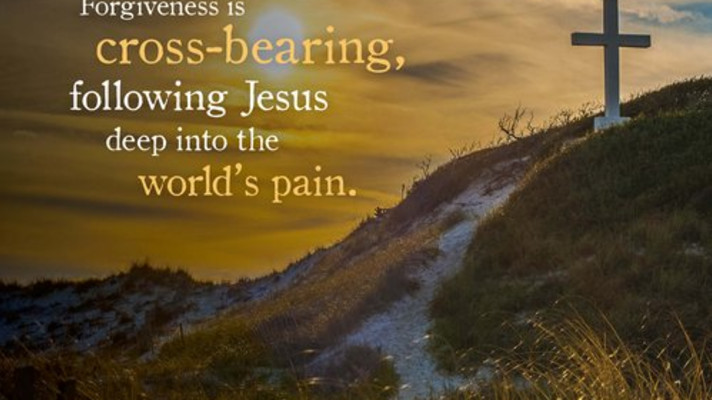 The Measure of Forgiveness
The first time we forgive a galling wound, we seem all noble, elevated, full of moral worth. Given how superior we feel, forgiveness seems its own reward. The second, third, and fourth occasions remind us that forgiveness doesn't always change the one who angers or offends us. The callous and insensitive may continue just as they were. About the seventh time, we feel like fools—like 12-year-olds who discover Santa Claus was never real. Why should we keep forgiving when wounding doesn't stop? Isn't there a cut-off point when injuries continue? "'No, not seven times," Jesus replied, "but seventy times seven!'" (Matt 18:22). Forgiveness isn't asked of us so we may feel wise and worthy. Forgiveness is cross-bearing, following Jesus deep into the world's pain because this is the way God loves, even for the stony and hard-hearted. How many of us would be in grace if Heaven had drawn the line at seven, and left us to our fate thereafter? The apostle Paul, who was so much forgiven and thus called to forgive so much, once wrote: "Be kind to each other, tenderhearted, forgiving one another, just as God through Christ has forgiven you" (Eph 4:32). Keep praying for the grace to keep forgiving. And stay in it.
Grace and Truth
"This is my faith," we proudly say, and point to doctrines, dogma, sacred books. "These I believe," we chorus as we sit in church, surrounded by the arsenal of arguments built up to counter unbelief. But what is faith at 3:00 a.m. when worries gather in the dark like spiders on the ceiling? What is our trust when feverish loved ones groan and fret, and we feel helpless to relieve their pain? The heart of faith is trusting in God's unrelenting love, much more than lining up beliefs or getting answers to our prayers. To be assured of His affection—to know His hand on us, His salve for all our wounds, His quiet but all-kindly grace—this is the bond that makes faith powerful and real. "Be sure of this," Jesus says. "I am with you always, even to the end of the age" (Matt 28:20). Christ is never absent. The truths we teach are, at their best, descriptions of our trust in grace. The love we never earned and don't deserve is lavished on us just because God's heart is love. When we trust deeply, we speak well of God: we tell God's truth.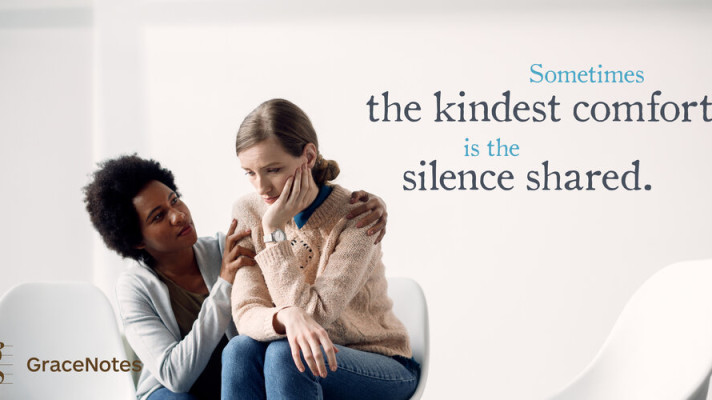 GRACE AND SILENCE
You know the moment—that instant when your heart hurts terribly from loss or grief. The air seems heavy, hard to breathe. Your mind crawls backward in the dark. And blessedly, you may also know that moment when a wise friend, often without words, reaches out to hold you, fold you while you grieve. That grip is grace, made real because the love and reassurance are real. It doesn't yield in fine-tuned explanations or hang on eloquence. Sometimes the kindest comfort is the silence shared with one who will not let you go. At its most basic level, the grace of God does not rely on words. The psalmist sang: "You have no equal. If I tried to recite all Your wonderful deeds, I would never come to the end of them" (Ps 40:5). The fact of Jesus, sent to us before He learned to speak a word, is proof enough that grace is first companionship—the knowledge that we're never left alone, abandoned, or unloved. The wordless Word of God gave witness of the Father's love before He ever preached or taught or healed our wounds "He Himself was before all things. And He holds all things together" (Col 1:17)—including us.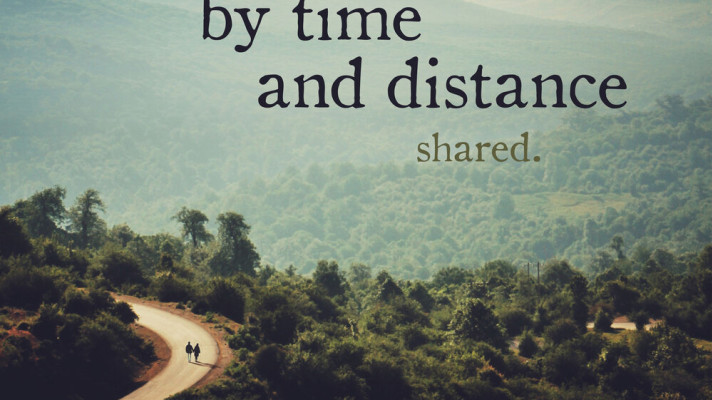 PERSISTENT GRACE
We measure almost everything in life by big moments: "The day I got married." "The week I started the new job." "That instant on my first skydive when I jumped from the plane." Memorable as they are, big moments aren't the real substance of our lives. It's years of staying married that add value; the honest work that yields satisfaction month by month; the friends who walk with us across the years—who share the "ordinary" days. The life of faith is like that too. It's the dailiness of prayer that builds our joy and stamina—the hours of deep openness when "the love of God is spread abroad in our hearts" (Rom 5:5). Trust is built by time and distance shared. A thousand miles of undramatic journeys with Jesus are worth far more than brilliant, blazing moments. "I have fought the good fight," the apostle Paul told us. "I have finished the race, I have kept the faith" (2 Tim 4:7).   Paul knew that there is grace at every marker, every signpost, every crossroad. Keep running—or walking—with Jesus today.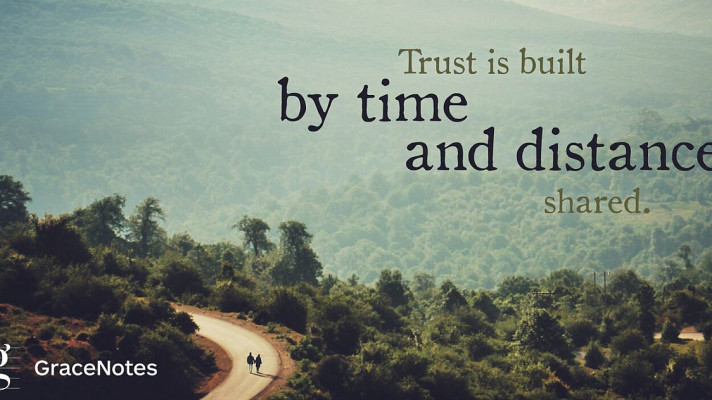 PERSISTENT GRACE
We measure almost everything in life by big moments: "The day I got married." "The week I started the new job." "That instant on my first skydive when I jumped from the plane." Memorable as they are, big moments aren't the real substance of our lives. It's years of staying married that add value; the honest work that yields satisfaction month by month; the friends who walk with us across the years—who share the "ordinary" days. The life of faith is like that too. It's the dailiness of prayer that builds our joy and stamina—the hours of deep openness when "the love of God is spread abroad in our hearts" (Rom 5:5). Trust is built by time and distance shared. A thousand miles of undramatic journeys with Jesus are worth far more than brilliant, blazing moments. "I have fought the good fight," the apostle Paul told us. "I have finished the race, I have kept the faith" (2 Tim 4:7).   Paul knew that there is grace at every marker, every signpost, every crossroad. Keep running—or walking—with Jesus today.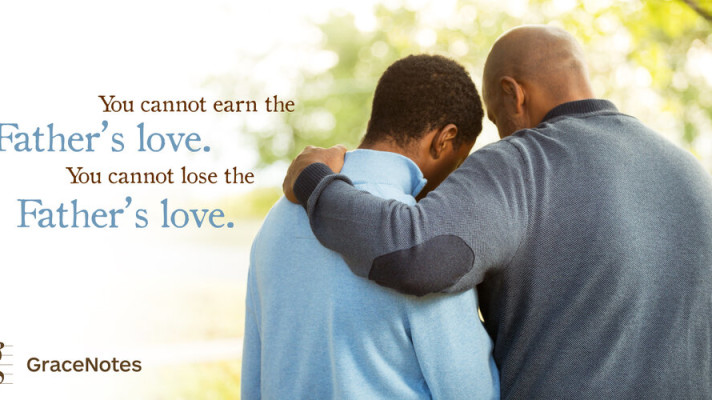 Unstoppable
"God is always disappointed with me." It's the mumbled sentiment of many who aspire to a higher, wiser life. We know our failings far too well: we tell half-truths or flat-out lies; we use our power to dominate the weak; we abuse our bodies, as if they really were our own. And we assume that God is always studying the gap between His law and our performance. Even on our best days, we don't reach our own half-hearted expectations, never mind His call to holy living. And so we think our failings keep Him at long distance—continually frustrated with us. But the gospel says God loves us differently. "For God was in Christ, reconciling the world to himself, no longer counting people's sins against them" (2 Cor 5:19). Even when we lapse into our habits of shame and self-loathing, His attitude toward us remains unchanged: "God sent His Son into the world not to judge the world, but to save the world through Him" (John 3:17). "By grace"—by God's unyielding affection for you—"you have been saved through faith, and this is not your own doing; it is the gift of God" (Eph 2:8). You cannot earn the Father's love. You cannot lose the Father's love.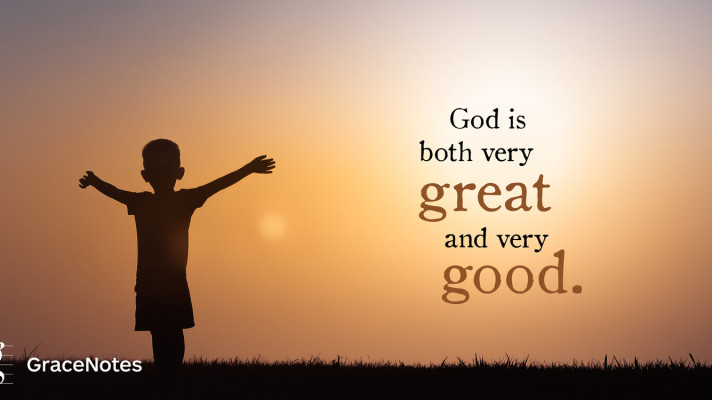 Always on My Mind
Sometimes we have to choose to remember the good things. So much of daily life is, as we say, "taken for granted." We assume when we go to bed that our eyes will open in the morning. We don't worry whether the car will start in the morning. We live our seasons believing there will be enough sun and rain to grow the grass and water the trees. Nothing out of the ordinary here. But the Word of God urges us to actively remember that none of these things is guaranteed: each is the Father's loving gift. When our happiness increases, His joy overflows. "Bless the Lord, O my soul," the psalmist reminds himself, "and do not forget all His benefits—who forgives all your iniquity, who heals all your diseases, who redeems your life from the Pit, who crowns you with steadfast love and mercy" (Psalm 103 2-4). It's easy to take even amazing things for granted—like forgiveness, and healing, and grace. And while He is no less God whether we remember Him or forget His goodness, the choice to celebrate His consistent kindness opens the door to abundant living. God is both very great and very good. His power—His rulership—is matched with tenderness and vast affection for us. Take what He has granted. Choose gratitude.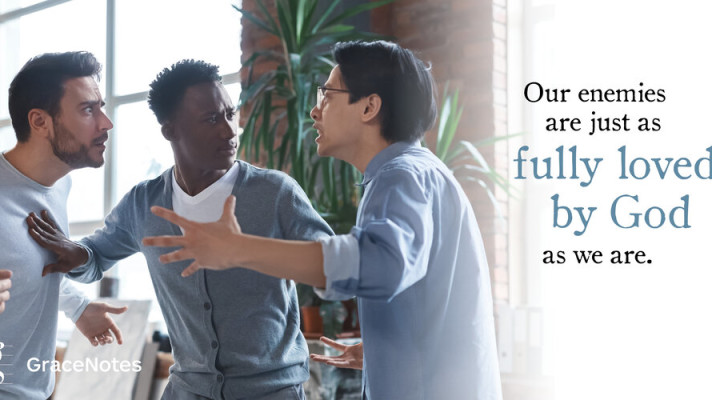 Regifting Grace
"Love your enemies." It's one of Jesus' best-known statements—and one of the most misunderstood. The mere mention of those who hurt us, slandered us, or victimized us uncovers all our buried helplessness and anger. Our memories work too well: we can't summon the will to overlook the painful past. The thought of one day loving those who wounded us seems just another of faith's impossibilities. And so we need a power greater than ourselves—which is just what we have received: "God's love has been poured into our hearts through the Holy Spirit which has been given to us" (Rom 5:5). Only the gift of supernatural grace—the kind the Father has shown to us "while we were still sinners" (Rom 5:8)—can ever move us to reimagine our enemies as friends: "See what love the Father has given us, that we should be called children of God; and that is what we are" (1 John 3:1). Our enemies are just as fully loved by God as we are. When we receive His gift of love, we learn, in time, to gift it on to them. Grace is this angry world's best hope for healing.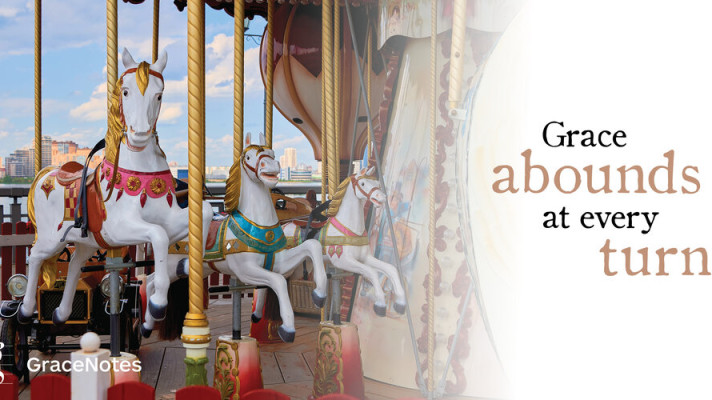 The Hope of Change
When we add up all our failings; when we see how frequently we fall, it seems we'll never find the exit to this sad amusement ride. Our angers still routinely flare; our pride leaps higher day by day; our self-absorption is a carousel of serving just ourselves. The happiness we thought we'd find—in being kinder, wiser, gentler, free—feels always, always out of reach. We circle 'round and 'round: there is no merry to this ride. We need an end to what we've been. With the apostle Paul we cry, "Oh, what a miserable person I am! Who will free me from this life that is dominated by sin and death?" (Rom 7:24). To all who hope for better things, the gospel speaks with clarity: "For everyone has sinned; we all fall short of God's glorious standard. Yet God, in His grace, freely makes us right in His sight. He did this through Christ Jesus when He freed us from the penalty for our sins" (Rom 3:23-24). Our past need not predict our future: grace abounds at every turn. "This High Priest of ours understands our weaknesses, for He faced all of the same testings we do, yet He did not sin. So let us come boldly to the throne of our gracious God. There we will receive His mercy, and we will find grace to help us when we need it most" (Heb 4:15-16) Your life can change. Your hope will grow.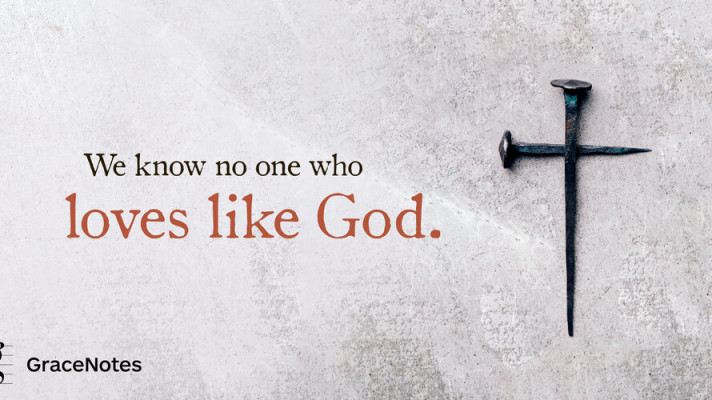 Unfailing Love
At the heart of why we struggle to understand the "otherness" of God is our assumption that He must be, in some sense, just a grander and more powerful version of us. If we're preoccupied with tomorrow, God must think of nothing else, for He controls tomorrow. If we're sorrowful or angry when people disappoint us, God's indignation must be multiples of ours. Because we find it hard to forgive, we think that He forgives reluctantly, and only when petitioned. But God loves differently. "'For My thoughts are not your thoughts, neither are your ways My ways,' declares the Lord" (Isa 55:8). In the heart of God there's an unquenchable affection for us, even when we're anxious, even when we're angry, even when we stumble at forgiving—or believing we've been forgiven. "Because of His great love for us, God, who is rich in mercy, made us alive with Christ even when we were dead in transgressions—it is by grace you have been saved" (Eph 2:4-5). We know no one who loves like God—who will not be distracted and cannot be dissuaded from loving us, embracing us. "This is love: not that we loved God, but that He loved us and sent His Son as an atoning sacrifice for our sins" (1 John 4:10). We'll never comprehend such grace. But we can welcome it; rejoice in it; be warmed by it. And stay in it.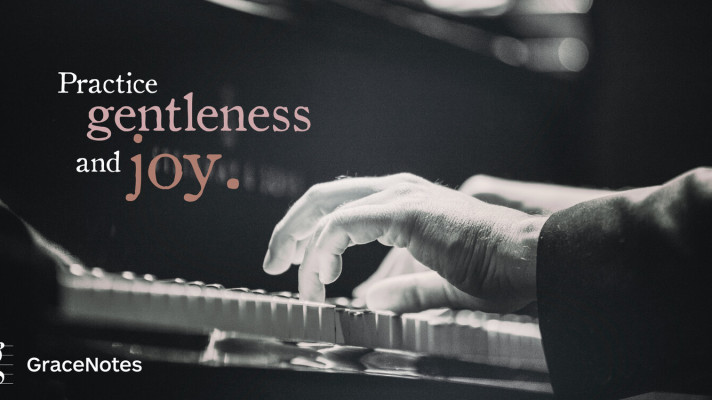 Sweet Song of Grace
Ask any skilled musician, and they'll tell you everything begins with practice. Behind the brilliant concert hall performance or the music video that goes viral lie a hundred—or a thousand—hours of tedious and undramatic practice. Cognitive skill, muscle memory, an adroit sense of timing, and a touch of interpretive expression meld, at last, into a moment that can soothe or challenge, inspire or amaze. We practice who we want to be, even though on every day, our practice isn't perfect. If we rehearse our injuries—the snubs we felt; the spite endured; the untrue things that made us weep—we build the tuneless selves that amplify the world's dirge. And if, through grace, we practice peace; if we rehearse transparency and love, the song of Moses and the Lamb becomes the music of our lives (Rev 15:3). We sing with those who celebrate; we comfort those who mourn a loss. We pass the trifling goal of sounding good, and actually start doing good. The grace that filled our dark with song now stirs deep hope for those who need a melody. So practice gentleness and joy. Rehearse how Jesus rescued you—from sin and from yourself. Let kindness be the memory of your voice. Ten thousand ears will bless you.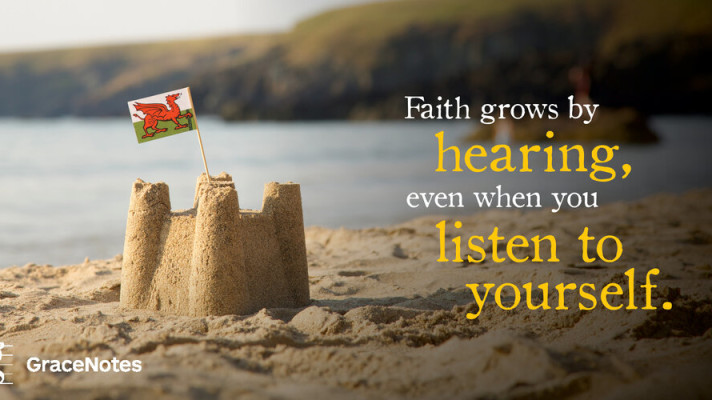 Aganst the Tide
My faith is but a sandy castle Trembling on the beach of time. Many of us could write that line, or whisper it at least. We are awash in our mistakes—the hot words said; the things consumed; the foolish deeds that damaged health or wounded those we love. On good days, we remember grace, and for some hours, the tide recedes. But then a wave of surging guilt erases faith's small towers on our beach. Will nothing change this ebb and flow? So speak aloud the grace you know. Rehearse to someone good things God has done for you—the reconciliations made; the habits changed from bad to better; the kindness that you practiced until caring seemed like second nature. Through grace, your life is different than it was. And every difference that you voice will be a brick against the tide. Faith grows by hearing, even when you listen to yourself. "The word is near you, in your mouth and in your heart —that is, the word of faith that we are proclaiming" (Rom 10:8). Your faith is built upon a rock, and Jesus never fails.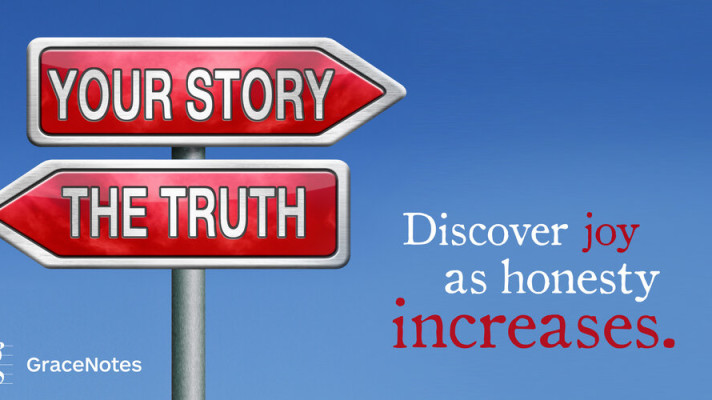 Grace and Truth
It's just a subtle shading of the truth, a slight deflection from the facts, that tempts us to dishonesty, especially with ourselves. "I'm not so bad," we say with evident relief when we remember tyrants, madmen, and the vicious from our history books. "My sins are nothing in comparison to theirs." There are no obvious casualties from our mistakes, no line of grieving people who point to us as causing all their woe. And so we wrap our consciences with layers of white gauze, muffling what dissonance the Spirit stirs within us. But God is moving in us for a reason: "Do you not realize that God's kindness is meant to lead you to repentance?" (Rom 2:4). Those qualms we feel when we adjust the truth or tell a lie or leave the wrong impression are actually sweet signs of hope. God cares enough about the truth that He will stir us till we let Him realign our reasoning. "You desire truth in the inward being; therefore teach me wisdom in my secret heart" (Psalm 51:6). In grace, God teaches us to speak the truth—to others, yes, but firstly to ourselves. Discover joy as honesty increases.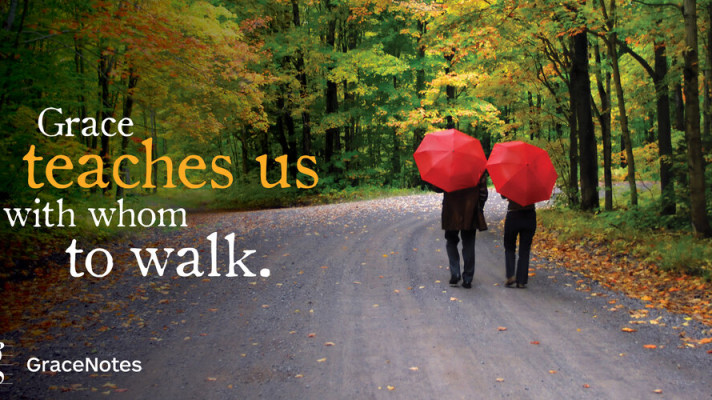 Walking With the Gracious
Some wit has cracked that there are just two kinds of people in the world: those you would go walking with, and those with whom you never would. Simple as it seems, it helps us choose companions for the journey. There are so many angry souls, exuding ego, spitting spite, who make an office hallway walk a journey of deep angst and fear. They have no patience for us fools; they scorn forgiving others' sins; they call for justice, not for love. And yes, they always walk alone. But there are others, touched by grace, who breathe the cleaner air of peace. With them, we'd walk around the world, or at least five times around the block. They listen better than they speak. They're quick to heal, slow to challenge, offering the safety broken, wounded people crave. And no, they never walk alone. Grace teaches us with whom to walk, remembering that we were once alone, undone, and far from God. But now "you are no longer strangers and aliens, but you are citizens with the saints and also members of the household of God" (Eph 2:19). We were meant to walk with others. Choose the ones who bring you joy. And stay in grace.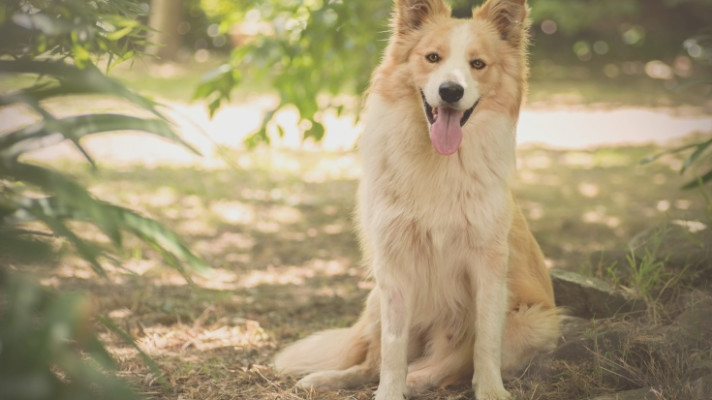 The Day Of The Rabbit: A parable of freedom and bondage by Lynn Buzzard
Gypsy, a furry wheat-colored collie, found herself mistress of several hundred acres of hill and wood full of good things like rabbit trails and streams and intriguing burrows, and she delighted in it all. She was given a comfortable bed and good meals, so much so that perhaps she often took them for granted. Obligations there were few, and they were not heavy. She was, to be sure, supposed to worship her Master and be right joyous to be with him. She also knew that she must not chase the chickens. While she must obey commands – to follow, to come, to lie down – there were no unreasonable demands, and no tricks. After all, to obey and to worship were natural to her dog nature. There came a day when, as Gypsy was prowling on the far hill past the springhouse and pasture, two things simultaneously happened. The Master called her and a rabbit fled across the hill. Gypsy wheeled and raced toward the Master; then she stopped. It entered her mind that she didn't have to obey. Perhaps the Master didn't realize about that rabbit. Anyway, these were her acres. The rabbit was hers, really. Very probably, it was all nonsense, that story about everything belonging to the Master. How did she know that the food that appeared in the pan was put there by him, probably there was some natural explanation. She was a free dog and that was the end of it. These thoughts went through her mind swiftly as she stood irresolute. Again came the Master's command; the rabbit crossed the top of the hill. Gypsy whirled and raced after the rabbit. She had made a choice; there was nothing to stop her. Hours later she came home. She saw the Master waiting quietly for her, but she did not rush gladly, leaping and frisking, to him as she had always done. Something new came in to her demeanor: guilt. She crawled up to him like a snake on her belly. Undoubtedly she was penitent at that moment. But she had a new knowledge – the knowledge of possibility of sin, and it was a thrill in her heart and a salt-taste in her mouth. Nevertheless, she was very obedient the next day and the day after. Eventually though, there was another rabbit – and she didn't even hesitate. Soon it was the mere possibility of a rabbit. And then she dropped the rabbit thing altogether and went her own way. The Master loved her still, but trusted her no more. In time she lived in a pen, and went for walks with a rope around her neck. All her real freedom was gone. But the Master gave her, from time to time, opportunities to obey again of her own free will. Had she chosen to obey she would once again have had the perfect freedom to wander her hundreds of acres. But she always chose, if she were out of reach, to run away. The Master, knowing hunger would bring her back to her pen, let her run. He could have stopped her; the rifle that would have ended her rebellion with the crack of doom stood in the corner, but while she lived she might choose freedom and obedience. One day during a journey by car Gypsy was taken to the edge of the woods. Always Gypsy had limited her disobedience to the hills she knew. But now, coming back to the car, she suddenly felt the old thrill; she turned and fled. The Master called with a note of sharp urgency. Gypsy, her ears dulled to the meanings of the Master, continued her rush into the dark forest. After hours of searching and calling, the Master called once more, and then sadly abandoned the lost one and drove home. Gypsy, if she still lived, wandered the woods and roads an outcast. She became dirty and matted with burrs. No doubt stones were thrown at her and she was often hungry; she had lost the way home. This was the way she chose on the Day of the Rabbit, and continued to choose until there was no more choosing.